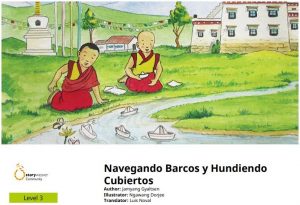 Navegando Barcos y Hundiendo Cubiertos – Sailing Ships and Sinking Spoons Spanish – Tenzin and Tashi where sailing paper boats on a water paths from the rain where they start to wonder why do boats float. On their search they asked Miss Sonam their science teacher. They went to have an experiment to answer their question. This book has lessons about Buoyancy, gravity, density and displacement that will help explain and answer young readers questions like Tenzin and Tashi have.
Author: Jamyang Gyaltsen, Illustrator: Ngawang Dorjee
Text and Images from Navegando Barcos y Hundiendo Cubiertos
Tenzin y Tashi eran dos jóvenes monjes tibetanos. Vivían en un pequeño monasterio en una hermosa colina verde. Era hermoso cuando llovía.
Cuando Tashi miró por la ventana por la mañana, la lluvia caía con fuerza. Riachuelos se formaban donde el agua había pasado en el camino enlodado. Tashi no podía pensar en una mejor manera de pasar la tarde que creando barcos de papel.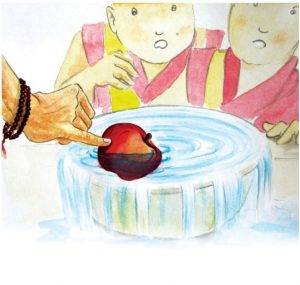 Tashi y Tenzin comenzaron a hacer muchos botes de papel. Tan pronto como dejó de llover, los chicos salieron corriendo. Navegaron los barcos de papel que habían hecho, algunos grandes, otros pequeños. Los barcos flotaban muy bien a lo largo del camino. Los dos monjes jóvenes estaban felices.
Mientras corrían de regreso a casa, vieron a Gen Lobsang. Genla vivió en el monasterio y les contó a los niños las historias más maravillosas.
"Genla", gritó Tenzin. "¿Puedes contarnos una historia sobre por qué flotan los barcos?"
El general Lobsang pensó por un minuto y dijo: "No sé por qué flotan los barcos. Pero tengo curiosidad por saberlo.
*Genla: una forma educada de dirigirse al profesor en tibetano
<end of sample>
Read the full book by selecting the buttons below the post.
Navegando Barcos y Hundiendo Cubiertos English version below:
Read the English version using these links.
See more books in Spanish below