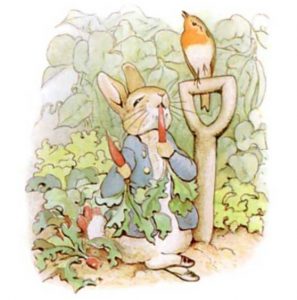 The story of Peter Rabbit by Beatrix Potter is a tale which has entertained children for generations. Herewith the classic children's story is provided in a downloadable and read online format designed in a manner similar to the feel of the original Beatrix Potter books.
Naughty Peter disobeys his mother and goes into Mr McGreggor's garden looking for carrots. He ends up in all sorts of trouble not the least loosing his clothes and shoes, what will end up happening to him? And what about his sisters, Flopsy, Mopsy, and Cotton tail who decided to stay home?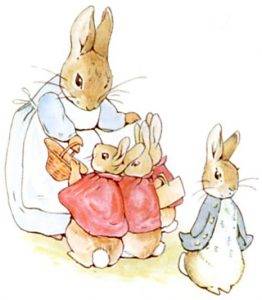 Sample Text from the Book:
Once upon a time there were four little Rabbits, and their names were—
Flopsy,
Mopsy,
Cotton-tail,
 and Peter.
They lived with their Mother in a sand-bank, underneath the root of a very big fir-tree.
'Now my dears,' said old Mrs. Rabbit one morning, 'you may go into the fields or down the lane, but don't go into Mr. McGregor's garden: your Father had an accident there; he was put in a pie by Mrs. McGregor.'
About this Post:
This book is in the public domain, and I usually do not post public domain files on our main page (They're on our classic book page), but here for the second time I am making an exception. There was a long debate over this book, since the copyright was never registered in America, however, the copyright officially expired in 2014, in all legal senses of the word. There was a UK ruling, allowing the Great Ormond Street Hospital (to whom the author donated the copyright and proceeds of her works after her death) to retain all proceeds from commercial sales of this book, so please visit their official site to purchase copies http://www.peterrabbit.com/ . 
About the Author: Beatrix Potter wA an English writer, illustrator, philanthropist, botanist and conservationist best known for her children's books featuring animals, such as this book The Tale of Peter Rabbit. Growing up in a privileged household, Potter was educated by governesses, and rather isolated from other children. She had numerous pets and spent holidays in Scotland and the Lake District, developing a love of landscape, flora and fauna, all of which she closely observed and painted. Painting and writing her two favourite bunnies, Peter, and Benjamin (Peter being her most favorite), she developed an early talent for writing and illustrating, and her books quickly became a great success. After her death she donated the proceeds of her work to the Great Ormond Street Hospital, and left her 15 farm properties to the National Trust for conservation.
A video link to this version of Peter Rabbit narrated by one of our readers:
Save
Save