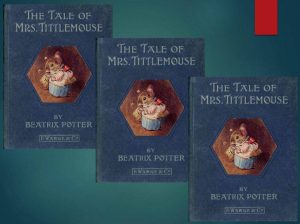 In The Tale of Mrs Tittlemouse, Mrs Tittlemouse's only wish is for her house to be clean and tidy, however, all her unexpected guests are not helping her at all.
Mrs Tittlemouse battles against a stray beetle who leave's footprints all over her clean floor, a lost mother ladybug, and a web stringing spider, an infestation of bees making fun "Bizz, Wizz" sounds, among others, and finally an untidy frog who is attracted by the honey, but will he help out? Find out what Mrs Tittlemouse does with all her unwanted guests, to make the tale a happy ending, in this fun and beautifully illustrated tale of mice and bugs, toads, and all with funny sounds to make.
This version is presented in a colourful style which makes it very suitable for screen viewing or projector use in classrooms. A compilation made by Kiwi Opa, especially for Free Kids Books.
Sample Text from the Tale of Mrs Tittlemouse
ONCE upon a time there was a wood-mouse, and her name was Mrs. Tittlemouse.
She lived in a bank under a hedge.
SUCH a funny house! There were yards and yards of sandy passages, leading to storerooms and nut-cellars and seed-cellars, all amongst the roots of the hedge.
THERE was a kitchen, a parlor, a pantry, and a larder.
Also, there was Mrs. Tittlemouse's bedroom, where she slept in a little box bed!
MRS. TITTLEMOUSE was a most terribly tidy particular little mouse, always sweeping and dusting the soft sandy floors.
Sometimes a beetle lost its way in the passages.
"Shuh! shuh! little dirty feet!" said Mrs. Tittlemouse, clattering her dustpan.
<End of Sample text, page 5 of 47 >
Read the entire book, The Tale of Mrs Tittlemouse, by selecting the read online or download buttons below the post.
Listen and read along with the story in this video post below.
Beatrix Potter (1866 – 1943)
Helen Beatrix Potter was an English writer, illustrator, natural scientist, and conservationist best known for her children's books featuring animals. Her best known character was Peter Rabbit (see more at The Tales of Peter Rabbit on FKB)
She was interested in every branch of natural science save astronomy. Botany was a passion for most Victorians and nature study was a popular enthusiasm. Beatrix loved collecting fossils, studying archaeological artefacts from London excavations, and interested in
entomology. In all these areas she drew and painted her specimens with increasing skill.
By the 1890s her scientific interests centred on mycology. First drawn to fungi because of their colours and evanescence in nature and her delight in painting them.
Curious as to how fungi reproduced, she began microscopic drawings of fungus spores (the agarics) and in 1895 developed a theory of their germination.
See our most recent books below
See our most popular books this month
---
Sponsored Links:
Note – if you sign up through these links, it doesn't cost you any extra, but FKB receives a small donation, which helps us move towards our aim of
FREE Hardcopies!  
All our posts are checked by Grammarly, the FREE online grammar checker (We still receive a donation even if you only sign up for the free account :-):


This site is hosted by Bluehost:

Leave a comment (it won't be public) if you want help getting your own website cost-effectively.