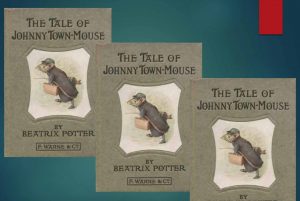 Johnny Town-Mouse lives in the city, Timmie Willie a country mouse lives in the garden. In this delightful tale they meet and become friends.
As Timmie Willie ventures into the city, Johnny Town-Mouse introduce a whole new world to timmie.
While Johnny also ask questions about Timmie's town.
Another adaption of Beatrix Potter's classic tales by Kiwi Opa.
Sample page from The Tale of Johnny Town-Mouse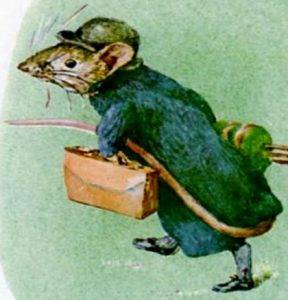 Johnny Town-mouse was born in a cupboard.
Timmie Willie, a country mouse, was born in a garden.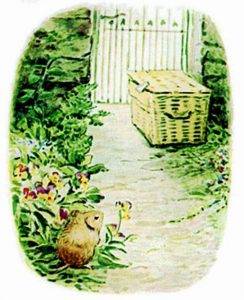 Timmie Willie was a little country mouse who went to town by
mistake in a hamper.
The gardener sent vegetables to town
once a week by carrier; he packed them in a big hamper.
<end of excerpt>
Follow and read along the video below
Beatrix Potter (1866 – 1943)
Helen Beatrix Potter was an English writer, illustrator, natural scientist, and conservationist best known for her children's books featuring animals. Her best known character was Peter Rabbit (see more at The Tales of Peter Rabbit on FKB)
She was interested in every branch of natural science save astronomy. Botany was a passion for most Victorians and nature study was a popular enthusiasm. Beatrix loved collecting fossils, studying archaeological artefacts from London excavations, and interested in
entomology. In all these areas she drew and painted her specimens with increasing skill.
By the 1890s her scientific interests centred on mycology. First drawn to fungi because of their colours and evanescence in nature and her delight in painting them.
Curious as to how fungi reproduced, she began microscopic drawings of fungus spores (the agarics) and in 1895 developed a theory of their germination.
In The Tale of Mrs Tittlemouse, Mrs Tittlemouse's only wish is for her house to be clean and tidy, however, all her unexpected guests are not helping her at all. Mrs Tittlemouse battles against a stray beetle who leave's footprints all over her clean floor, a lost mother ladybug, and a web stringing spider…
In this classic Beatrix Potter tale, a naughty Tom Kitten gets tangled up in Samuel Whiskers Roly Poly Pudding, totally unable to escape. Will Samuel Whiskers have kitten pie for dinner, or will someone come to Tom's rescue?
Benjamin Franklin was an amazing person, statesman, businessman, author, philanthropist, and inventor, with his achievements from the declaration of independence to contributions to discovering electricity.  This biography tells all the events of his life, interspersed with activities for children to complete.
A simple version of the classic tale from Hans Christian Andersen, two friends fight good and evil in an epic battle.
Hans Christian Andersen is a Danish writer best remembered as one of the greatest storytellers of children's fairy tales. "The Brave Tin Soldier" was written between 1835 and 1872 and tells of the love and adventures of a one-legged tin soldier and a paper doll dancer he wants to make his wife.
Read more Classic Stories below
---
Sponsored Links:
Note – if you sign up through these links, it doesn't cost you any extra, but FKB receives a small donation, which helps us move towards our aim of
FREE Hardcopies!  
All our posts are checked by Grammarly, the FREE online grammar checker (We still receive a donation even if you only sign up for the free account :-):


This site is hosted by Bluehost:

Leave a comment (it won't be public) if you want help getting your own website cost-effectively.