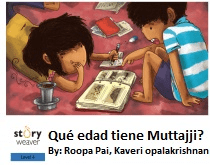 Qué edad tiene Muttajji? Spanish Version – Two children try to work out how old Muttajji and their great grand mother is. As they try to work our her age, they travel through many significant events and places in Indian history, while using basic mathematics to help them figure out the answer. The end of the book provides some non-fiction details of the events and places discussed.
A captivating story with lots of wonderful illustrations, perfect for children to use to learn math, Indian history and culture.
By Roopa Pai, Kaveri Gopalakrishnan
The English version of this story can be found here: https://freekidsbooks.org/how-old-is-muttajji/
Sample page from Qué edad tiene Muttajji? Spanish Version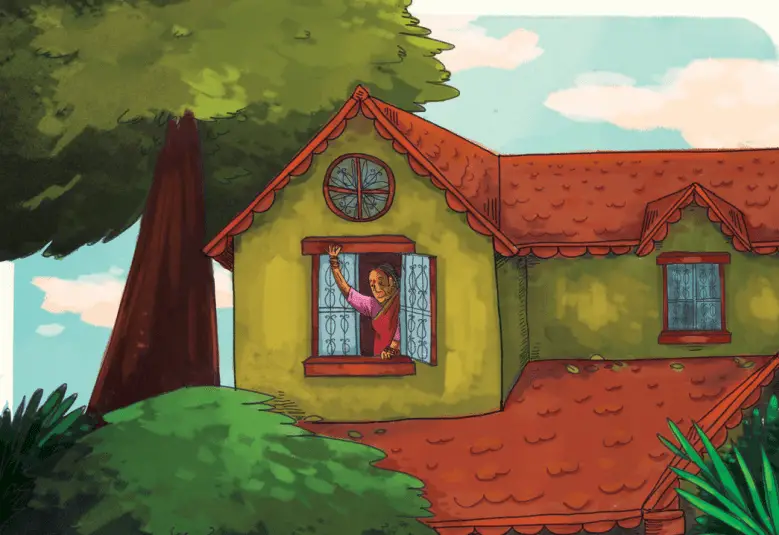 Muttajji, madre de la madre de la madre de los gemelos, vivía en
Mysore con Ajji, que era la madre de la madre de los gemelos.
Nadie sabía cuándo era el cumpleaños de Muttajji; Pero Ajji
siempre lo había celebrado en las vacaciones de Makara
Sankranthi.
"Amma, ¿habrá un pastel?" -preguntó Putti. -¿Un pastel grande y
esponjoso con glaseado rosado y una rosa encima?
-Naah -dijo Putta-. "Las personas mayores no tienen pasteles de
cumpleaños, y 200 velas no caben en ningún pastel".
"Muttajji no tiene 200 años, tonto", dijo Putti. -¿Qué edad tiene
Muttajji, Amma?
Amma sonrió. -¿Por qué no le preguntas cuando llegamos?
<end of excerpt>
About Pratham, Read India
Pratham Books was set up in 2004, as part of the Read India movement, a nation-wide campaign to promote reading among children. Pratham Books is a not-for-profit organization that publishes quality books for children in multiple Indian languages.
Pratham's mission is to see "a book in every child's hand" and democratize the joy of reading.
Pratham's books are available now in digital form on the Storyweaver platform.
See more Early Readers in our Early Reader category: https://freekidsbooks.org/subject/early-reader/
See more books from Pratham in our Storyweaver-Pratham category: https://freekidsbooks.org/publisher/storyweaver-pratham/
See more books in Spanish below
---
Sponsored Links:
Note – if you sign up through these links, it doesn't cost you any extra, but FKB receives a small donation, which helps us move towards our aim of
FREE Hardcopies!  
All our posts are checked by Grammarly, the FREE online grammar checker (We still receive a donation even if you only sign up for the free account :-):


This site is hosted by Bluehost:

Leave a comment (it won't be public) if you want help getting your own website cost-effectively.