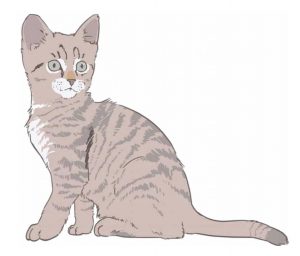 The Stinky Kitten, a children's story about a naughty kitten, follows a delightful tale of a little kitten who gets himself in trouble. He finds that the most unlikely of friends are the ones that help him out the most. The moral – judge your friends by their acts not their words.
Sample Text from The Stinky Kitten
In the barn on a farm in Wisconsin there lived a momma cat and her six little kittens. There were three boy kittens and three girl kittens. They lived in a corner of the barn in a nice box filled with straw. They were all very happy little kittens.
Five of the kittens spent most of their time playing in the straw near their box. They played kitten games like pounce and jump and chase. But the other kitten was a very curious and friendly little girl kitten. She loved to explore the barn and the farm. She already knew most of the other farm animals.
About the Author:
Jim lives in Missouri with his wife Merry and their cat Little Bit, where they have an antique shop.  With Merry's help Jim has written 11 stories for children and cat lovers of all ages.  Most of the stories are about kittens but there is one about an adventurous baby bear, one about a curious frog and one about the history of rabbits and why they look the way they do now.  There is also a photo/caption book about two of our cats.

Several of the stories have been published but not widely distributed. The publisher has gone out of business so we are making the stories available free for children to read and hopefully enjoy.
Look out for kitten stories and more from Jim on Free Kids Books soon.
Children's stories about cats:
A short and very sweet, delightfully illustrated story about an independent cat. Another great creative commons book from BookDash.
The few words and large text size with repetition makes is very suitable for building confidence and keeping attention spans with early readers.
See more books about Animals below
---
Sponsored Links:
Note – if you sign up through these links, it doesn't cost you any extra, but FKB receives a small donation, which helps us with our project to buy more FREE Hardcopies   for kids who need them

All our posts are checked by Grammarly, the FREE online grammar checker (We still receive a donation even if you only sign up for the free account :-):