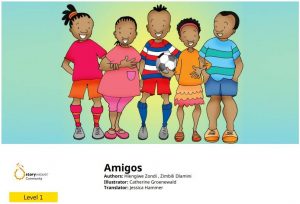 Amigos – Friends Spanish – Simo has many friends and each friends like to do certain things they love, but what would friends do if one of their friends love to play football? Well they all play, as friendship is about having fun with your friends on the stuff that they or you are interested in, it is about sharing experiences and having fun.
Authors: Hlengiwe Zondi , Zimbili Dlamini, Illustrator: Catherine Groenewald
Text and Images from Amigos
Mi nombre es Simo.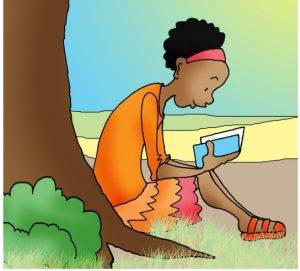 Yo tengo cuatro amigos.
Sus nombres son Zizo, Lele, Sisa y Ayanda.
A mi amiga Zizo le gusta jugar al fútbol.
A mi amiga Lele le gusta nadar.
A mi amigo Sisa le gusta jugar al escondite.
A mi amiga Ayanda le gusta leer.
<end of sample>
Read the full book by selecting one of the buttons below the post.
Amigos English Version below
Read the book in English here.
See more books in Spanish below