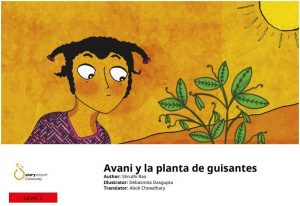 Avani y La Planta de Guisantes – the spanish version of Avani and the Pea Plant, as Avani was helping out her Amma a single pea fell out of the bowl, that pea manage to find it self on a perfect spot for it to grow into a pea plant.
This is a fun Spanish Early Biology book, children will see different kinds of animals along the way and will have a planting activity at the end. This book is rated as a level 2 Spanish book brought to us by Pratham's Storyweaver.
by Shruthi Rao, Illustrated by Debasmita Dasgupta
Sample from Avani y La Planta de Guisantes – Spanish Early Biology
Un día, Avani estaba sentado a la mesa del comedor, observando a su madre cocinar.
Amma tuvo la olla lista…
"Avani, pasame los guisantes por favor" , dijo Amma.
Avani tomó un tazón de guisantes secos de la mesa y se lo dio a Amma.
Un guisante cayó del tazón. ¡Avani y Amma no lo vieron!
El guisante rebotó en la mesa, sobre el suelo…
…y rodó debajo de la mesa. Chikki, la gata lo encontró.
Ella lo empujó. Ella lo golpeó.Trató de amerlo.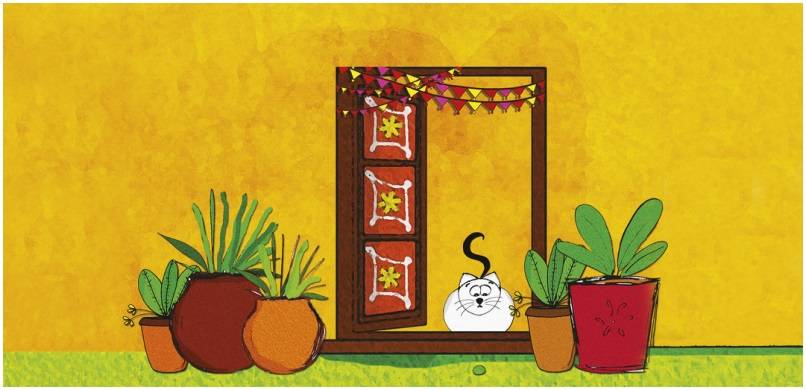 El guisante rodó hacia la puerta de la cocina.
Chikki lo empujó de nuevo. Se enrolló … …en el jardin.
¡Inténtalo tú mismo!
1. Planta una semilla en una maceta pequeña y regarla todos los días.
2. ¿Crece si guardas la maceta en un lugar oscuro  fresco?
3. Muchas semillas germinadas y granos Son muy buenos para nuestra salud. ¿Qué brotes te gusta comer?
end of sample Spanish early biology
See more books is

Spanish

Below