Frogs is a short,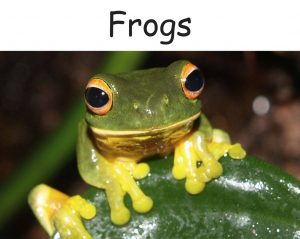 early non-fiction book aimed at first graders. Perfect for early science lessons, and inspiring class projects. This is another great creative commons book from Mustard Seed Books.
By: Mustard Seed
Guided Reading: E, Grade Level: 1.4, Reading Recovery: 8
Frogs – An Early Non Fiction Book From Mustard Seed Books
About Mustard Seed Books
The Mustard Seed Books project uses an open-source, Wikipedia-type strategy, leveraging public expertise to create and refine a set of high-quality books that support early reading development.
All of the books and pictures are covered by the Creative Commons License (http://creativecommons.org/licenses/by-nc-sa/3.0/ ) and are free to print, distribute, and modify for personal or educational use.
The books are available at www.mustardseedbooks.org. New titles appear on a regular basis. If you have any ideas for books or would like to leave us any feedback, contact rick@mustardseedbooks.org.
About the Books in the Series
These books for beginning readers support phonics-based classroom instruction by including a high concentration of phonetically regular words, as well as the most commonly used sight words. However, the books are written using pictures and stories that make sense and promote both language and conceptual development.
The books encourage questions, conversations and thoughtful engagement, aiming towards the new common core standards. Our intent is to produce books that kids want to read, think about, talk about and read again.
See more books from Mustard Seed
See more Science books below
---
Sponsored Links:
Note – if you sign up through these links, it doesn't cost you any extra, but FKB receives a small donation, which helps us with our project to buy more FREE Hardcopies   for kids who need them

All our posts are checked by Grammarly, the FREE online grammar checker (We still receive a donation even if you only sign up for the free account :-):