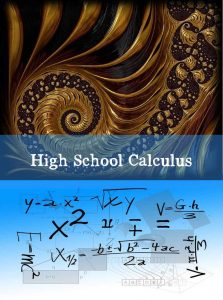 High School Calculus is a text book that can be used to teach high school calculus in a classroom where no prescribed books are available, for setting additional homework, helping remedial or extension students at different levels, or as a home school text. The book can also suit as a text for a stand alone introductory college class in calculus for those who do not have sufficient high school calculus experience. The text contains a stand along explanation of the topic of Calculus, from introducting the concept and discussing pre-calculus requirements such as algebra and trigonometry, to complex calculus proofs.
The book includes many exercises and their worked solutions for pre-calculus, differentiation, integration, complex numbers, and many other topics.
We've converted this book to an epub to read better on tablets, download the epub here: Calculus for High School Textbook Epub
This book was sourced from wikibooks, an online version can be found here: https://en.wikibooks.org/wiki/Calculus
A list of wiki pdfs available for printing or offline study is available here: https://en.wikibooks.org/wiki/Wikibooks:PDF_versions
This print edition of High School Calculus was created in March 2011.
To see more books from Wikibooks on FKB, see our Wikibooks Category.
See more books on Mathematics in our Maths Category.
See more books from Wiki on FKB in our Wiki category.
---
Sponsored Links:
Note – if you sign up through these links, it doesn't cost you any extra, but FKB receives a small donation, which helps us move towards our aim of
FREE Hardcopies!  
All our posts are checked by Grammarly, the FREE online grammar checker (We still receive a donation even if you only sign up for the free account :-):


This site is hosted by Bluehost:

Leave a comment (it won't be public) if you want help getting your own website cost-effectively.