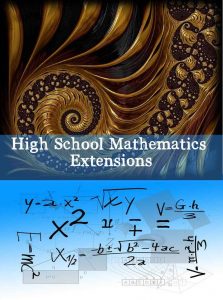 High School Mathematics Extensions is a textbook with exercises and provides around 250 pages of advanced high school maths. The book makes a great addition to high school curriculum, as assistance to understanding maths problems, or as a workbook for homeschool or extending children. The topics are meant to advance and add on to high school knowledge for those considering mathematics as an option as part of higher education (for example, programming, engineering, data analytics, or science, or pure mathematics).
More about this book and an Online version can be found here: https://en.wikibooks.org/wiki/High_School_Mathematics_Extensions
Wikibooks – Zhuo Jia Dai, User:R3m0t, Martin Warmer, Tom Lam
To download or readonline the full text of High School Mathematics Extensions – select the "Download pdf" or "read online" buttons below this post.
The following topics are covered:
PRIMES AND MODULAR ARITHMETIC
LOGIC
MATHEMATICAL PROOFS
INFINITY AND INFINITE PROCESSES
COUNTING AND GENERATING FUNCTIONS
FINANCIAL OPTIONS
MATRICES
DISCRETE PROBABILITY
FURTHER MODULAR ARITHMETIC
MATHEMATICAL PROGRAMMING
BASIC COUNTING
PARTIAL FRACTIONS
SUMMATION SIGN
COMPLEX NUMBERS
DIFFERENTIATION
This book is a work available under a creative commons license (GNU ).
See more books on Mathematics in our Maths Category.
See more books from Wiki on FKB in our Wiki category.
---
Sponsored Links:
Note – if you sign up through these links, it doesn't cost you any extra, but FKB receives a small donation, which helps us move towards our aim of
FREE Hardcopies!  
All our posts are checked by Grammarly, the FREE online grammar checker (We still receive a donation even if you only sign up for the free account :-):


This site is hosted by Bluehost:

Leave a comment (it won't be public) if you want help getting your own website cost-effectively.