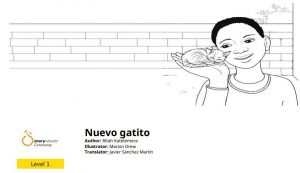 Nuevo gatito – New Pussy Cat Spanish – A family is in search of a new cat, when they try to find a cat they see that one was too small, the other was too big, and the other was quick which they did not like. Will they be ablle to find a cat that is perfect for their family? This is a level 1 book from Pratham's Storyweaver.
Author: Ritah Katetemera, Illustrator: Marion Drew
Text and Images from Nuevo gatito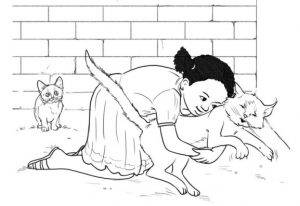 Prosy quería un gatito.
La familia de Prosy fue a visitar a los gatitos.
Prosy quería este gato.
Era demasiado grande para ella.
Tim quería este minino.
Era demasiado pequeño para él.
Mamá quería este gatito.
Era demasiado rápido para ella.
<end of sample>
Read the full book by selecting one of the buttons below the post.
Nuevo gatito English version below:
Read this book in English on the above link.
See more books in Spanish below