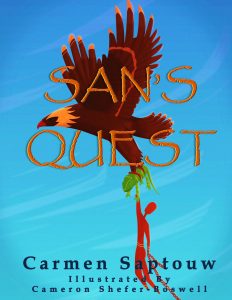 In San's quest, San, a rock painting, learns with the help of a friend to face his fears.
San the bushman drawing lives all alone in his cave. He finds out that there are others like him in the Karoo, but he is too scared to leave his cave. When he has the courage to venture out he meets a friend, Cham the chameleon. With the help his new friend they builds up the courage to face the fear of the unknown. 
Another great free children's story from Carmen Saptouw.
Sample text from San's Quest:
San was a bushman drawing who lived on a rock in a cave deep in the Karoo.
He was the only bushman in the cave. Engraved with him were his spear and boomerang.
During the day he remained on the rock as humans would visit the cave at times.
Only at night he would climb from his rock and wander around the cave.
He would walk from wall to wall just to make sure he didn't miss a fellow drawing even though he knew there was none other.
He never left his cave – he was too scared of what laid beyond it and he feared the unknown.
He had taken a peek before, but it was dark and the only thing he could see was the little lights that covered the dark heavens. From inside he would sit and watched them for hours.
He couldn't help but wonder how it must be to gaze upon the lights from outside his cave.
<End of paragraph 1>
Other books by Carmen Saptouw
If you enjoyed this book you may also enjoy the following books from Carmen Saptouw: