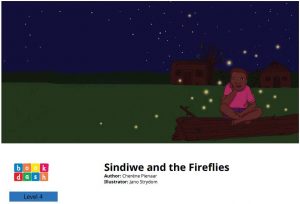 Sindiwe and the Fireflies – This is the story of Sindiwe Magona. Born in the village of Gungululu in rural Eastern Cape. Born on August 23 1943, But life was not easy on Sindiwe, she left school in order to work as a cleaner, but no matter difficult her situation was Sindiwe never gave up on her dreams. She continued her studies while working. Until her hard work paid off. Sindiwe Magona earned her secondary and undergraduate education by correspondence, and later won a scholarship to study for her Master's Degree in Social Work at Columbia University in the United States of America.
Sindiwe not only reached her dreams but she achieve even more. A Teacher, civil servant, novelist, poet, playwright, women's activist, awarded the Order of Ikhamanga in Bronze for her literary and humanitarian contributions and her outstanding achievements in literature. Many people call her Nomabali because she's always writing, telling and reading stories.
Author: Cheréne Pienaar, Illustrator: Jano Strydom
Text and Images from Sindiwe and the Fireflies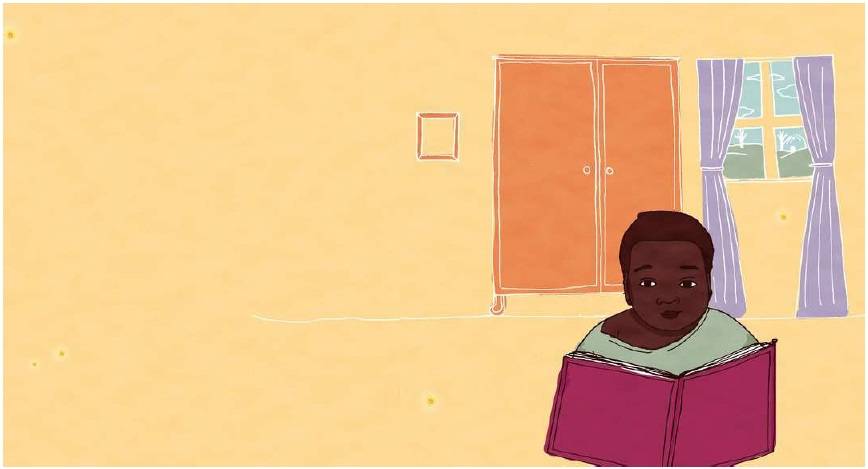 One day a very clever baby was born in Gungululu in the Eastern Cape.
Her name was Sindiwe Magona. She was the oldest of eight children.
At night, her grandmother told magical stories about ogres and giants, animals of the forests, great beasts, and little
creatures of the veld. It was Sindiwe's favourite time.
Sindiwe loved school and she dreamed about being a teacher.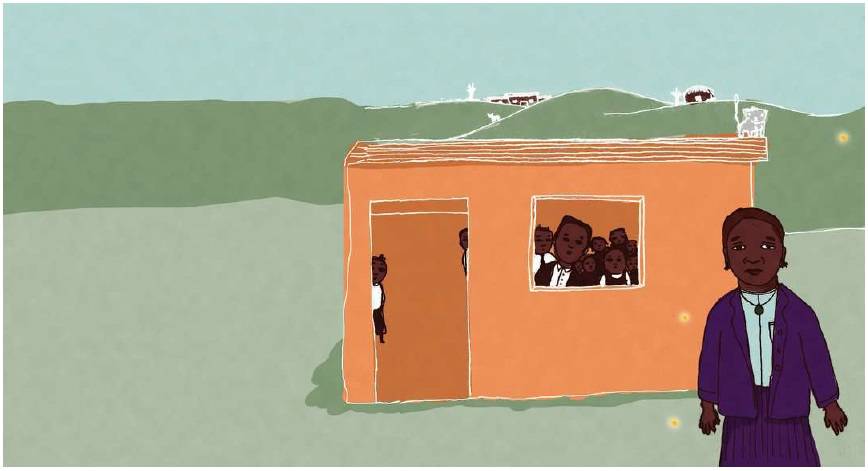 When Sindiwe became a teenager, her family organised a feast to celebrate.
She was given special things to wear and a wise old man sang a praise song to her. (Blessings, long life! May your ancestors guard you!)
Sindiwe trained to be a teacher. She was very excited to teach at her first school.
But there weren't enough schools for black children and they had no desks or books to write in. This made Sindiwe feel scared. How could she be a good teacher when the children had nowhere to sit?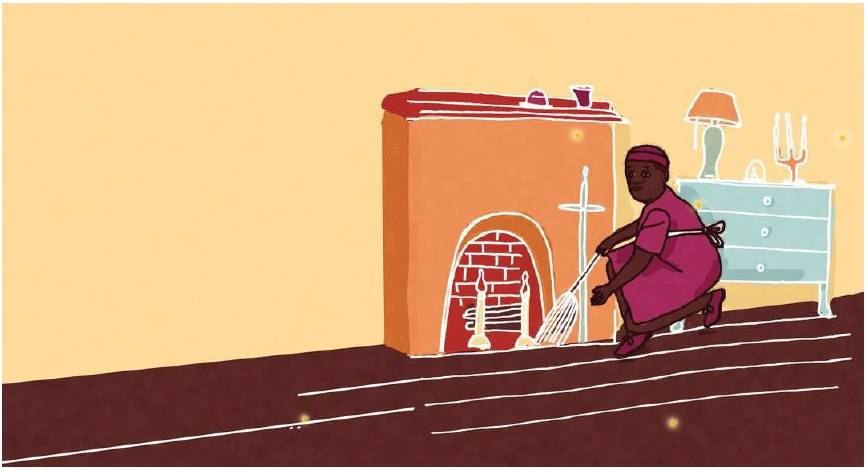 She left the school to work as a cleaner.
She worked in four different houses. Sometimes the people there treated her badly and Sindiwe became very unhappy.
<end of sample>
Read the full story by downloading or reading online on the buttons below the post.
About Creative Commons
Content under Creative Commons licenses can be downloaded, translated and can even be used to create new stories ‐ provided you give appropriate credit, and indicate if changes were made. To know more about this, and the full terms of use and attribution, please visit the following.
About Book Dash
Book Dash gathers professional creatives – writers, illustrators, designers, editors – who volunteer to create high-quality children's books that anyone can freely download, translate, print and distribute. Most of the work is done
on a Book Dash day, when small teams work for over twelve straight hours, each producing a new book.
Why Book Dash?
Books purchased from publishers cost too much. In order to distribute more books for South African children, Book Dash participants work as publishers in a single day, having a book with no publishers mean the book will be a lot cheaper the only cost will be printing the books. With these, anyone can run sponsored prints and the finished books can be handed to children.
Every child should have a hundred books when they reach the age of five. that means handing down 600 million free books to South African children who probably could not afford to buy them, More children grow up not learning how to read and write well, and every day we lose more of these children. Let us not neglect these children and help them overcome poverty by first teaching them how to read and to enjoy the worlds that a book can open up.
See more Inspirational books below
See more books by Book Dash below
---
Sponsored Links:
Note – if you sign up through these links, it doesn't cost you any extra, but FKB receives a small donation, which helps us with our project to buy more FREE Hardcopies   for kids who need them

All our posts are checked by Grammarly, the FREE online grammar checker (We still receive a donation even if you only sign up for the free account :-):