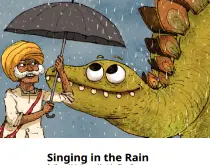 Singing In The Rain – Sukhiya Kaka a famous singer from a village called Bitaun, sings raag Malhar….Come to me o rolling clouds… on his way to Jhalaura, he not only attracts the clouds, but also Dinoo the dinosaur – have you ever sung in the rain with a dinosaur? This book was created as part of the 6 Frame Story Challenge, and is another great creative commons book from Story Weaver and Pratham.
By: Mala Kumar, Manisha Chaudhry
Sample Page from Singing In The Rain: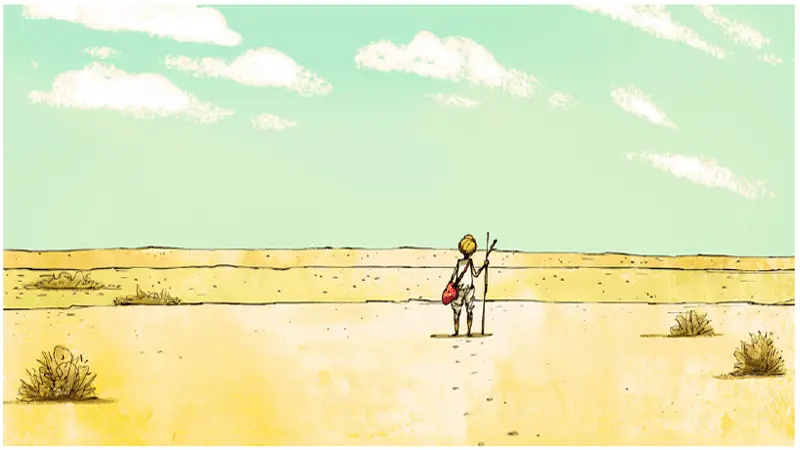 Sukhiya Kaka lived in a village called Bitauna.
Bitauna was famous all over Rajasthan for its singers.
No celebration was complete without Sukhiya Kaka's sweet songs.
Today he had been invited to village Jhalaura.
<End of Sample Page from Singing In The Rain>
#6 Frame Story Challenge: A Carnival of Art
The illustrations in this book were created as part of the #6FrameStoryChallenge, an online campaign run by Pratham Books to build a rich bank of illustrations for StoryWeaver. The essence of the #6FrameStoryChallenge was to tell a good story using just 6 illustrations.
The campaign inspired nearly 70 illustrators to donate their time and skills to India's first open-source storypublishing platform for children. What started out as an experimental campaign soon blossomed into a carnival of art, birthing nearly 500 new illustrations.
These wordless narratives cut across language barriers, opening up a world of possibilities, encouraging StoryWeaver's growing community to dream up multiple stories around these images. The #6FrameStoryChallenge is a powerful reminder of the need for collaboration, to get closer to our mission: "A Book in Every Child's Hand."
About Storyweaver
Pratham's platform Storyweaver allows people to read, create, translate, and make variations of books. They have thousands of books, and images, which people can make their own books from and share them with others. All the books provided by Pratham are licensed as creative commons, that is they are free to be shared. The only restriction is that all resulting work must be shared in the same way, and due credit must be provided to the original creators (CC-BY-SA).
More Books From Storyweaver: