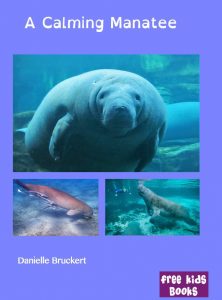 A Calming Manatee is about being beautiful, and more importantly what real beauty is. It is about how it's more important what you think of yourself than what others think of you. It's also about how important it is to be kind. The book is aimed at teaching young children about loving themselves and others, and about being kind and not hurtful.
The book is written in the open dyslexic font for struggling and dyslexic readers. The words are simple and will suit an emerging reader, however they are also very powerful and will be perfect to discuss with an older child, or for an older sibling to read to a younger one.
Each page of text has an endearing photo of a manatee on it to capture the attention of the young future marine biologists.
Text from A Calming Manatee
I'm a manatee.
I'm the most calming creature in the sea.
I've also been called the ugliest creature in the sea.*
*Rudyard Kipling – The White Seal https://freekidsbooks.org/white-seal/

But that depends… On who you talk to.
I like the way I look just fine!
And it's far more important how I feel about myself;
And how others feel about themselves;
Than how others feel about me!
I know I'm a bit chubby.
But I always have a true smile.
A smile is cute and free.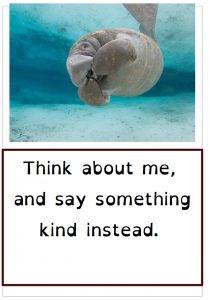 I know I am calm and caring.
And that's more important…
Everyone has an opinion.
Make sure yours counts!
And learn to listen to the most important one:
Your opinion of yourself!
Next time before you say something unkind about someone else;
Think about me,
and say something kind instead.
I'm a calming Manatee,
And I'm here,
to help you see,
that you can be,
as kind as me.
…It's free!
About A Calming Manatee
A Calming Manatee was inspired by the need to help inspire children to be kind to each other, and the fact that Manatees are considered both the ugliest and the cutest sea mammal, at the same time. They are also incredibly gentle giants, and their calm exterior, and gentle smile, is mimicked by their friendly vegetarian behavior.  Similar in appearance but totally different in behaviour from cousins the elephant seal, the Manatee is truly inspiring.  This book is aimed at fostering that same caring, kindness, anti-bullying, non-discrimining behaviour, and respect for inner beauty in young children.
Read along with the video here:
Read by Kiwi Opa
Sponsored advertising:
See more books about Sea Creatures below
See more books by Danielle Bruckert below
---
Sponsored Links:
Note – if you sign up through these links, it doesn't cost you any extra, but FKB receives a small donation, which helps us with our project to buy more FREE Hardcopies   for kids who need them

All our posts are checked by Grammarly, the FREE online grammar checker (We still receive a donation even if you only sign up for the free account :-):