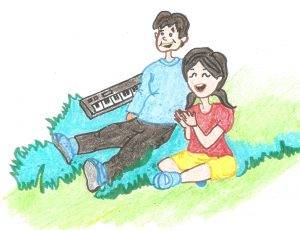 Neha has just returned from a long vacation. Her friends give her a warm welcome. But in the time she was gone, a new family has moved in to the housing society and her friends have issues with the new kid. Neha wants to be friendly with him, but will her old friends tolerate that, or will she lose her old friends in making a new one? Read on to find out.
This book has lovely colour illustrations by Deepa Nath, the awesome charcoal sketch artist mentioned in Tania Visits An Art Exhibition.
This is a chapter book about 4000 words long, suitable for 8 to 12 year old kids.