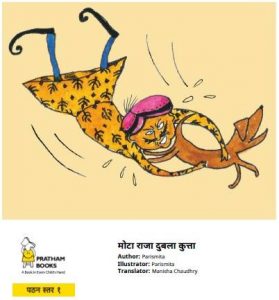 मोटा राजा दुबला कुत्ता, a Hindi Story – Tells the story of a fat king and his dog, The king run after his dog who was chasing a bird. What could be the outcome of this story? Will the King stay fat? This is a funny story perfect for young children.
This is a Hindi Level 1 book from Pratham's Storyweaver, This book is perfect for young children who want to start reading in Hindi first or second language, and beginner Hindi language learners or bilingual children. The book contains many wonderful pictures along with very small words. Level 1 books are suited for children age 2-5 years old.
मोटा राजा दुबला कुत्ता (Hindi), translated by Manisha Chaudhry, based on original story Fat King Thin Dog (English), written by Parismita, illustrated by Parismita, published by Pratham Books (© Pratham Books, 2007) under a CC-BY 4.0 license on StoryWeaver. Read, create and translate stories for free on www.storyweaver.org.in
Text from मोटा राजा दुबला कुत्ता – a Hindi Story
यह है मोटा राजा।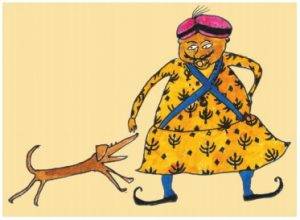 मोटे राजा का है बला कु।
मोटा राजा व बला कु घूमने नकले।
बले कु ने चड़या देखी।
वह उसके पीछे भागा।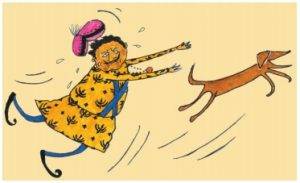 मोटा राजा बले कु के पीछे भागा।
दोन भागे।
और कई दन तक भागते रहे!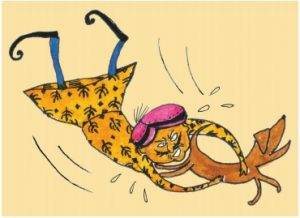 मोटे राजा ने बले कु को पकड़ ही लया।
मोटा राजा अब बला है!
<end of story Fat King Thing Dog Hindi version>
About Storyweaver
Pratham's platform Storyweaver allows people to read, create, translate, and make variations of books. They have thousands of books, and images, which people can make their own books from and share them with others. All the books provided by Pratham are licensed as creative commons, that is they are free to be shared. The only restriction is that all resulting work must be shared in the same way, and due credit must be provided to the original creators (CC-BY-SA).
More Books From Storyweaver:
Read this Hindi story, मोटा राजा दुबला कुत्ता, in different versions below
The fat king Thin Dog – The Fat King chases a thin dog – what happens, will he stay a fat king? A short fun book for young children. The short length, large text, and repetition makes it very nice for early readers. Another great free Creative Commons children's story from Pratham and Story Weaver.
See more books in Hindi below