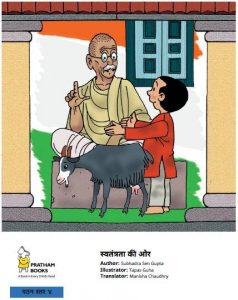 स्वतंत्रता की ओर – Hindi Story Marching to Freedom –  Mahatma Gandhi along with his supporters where fighting for India's freedom. They were organizing a march that will go down in History and be known as the Salt March.
The plan is Gandhi and some of the men from the ashram were going to walk through Gujarat to reach the sea at a place called Dandi. They would walk through villages and towns for a whole month. Once they reached Dandi, they would make salt, and this will be known as the Salt March, led by Mahatma Gandhi In March 1930.
This is a work of creative non-fiction, that captures the spirit behind an event that inspired millions of Indians to join the struggle for Independence.
स्वतंत्रता की ओर – Marching to Freedom Hindi is a creative non-fiction picture book written around Gandi's famous march to freedom.
This is a Level 4 Hindi Book brought to us by Pratham's Storyweaver licensed under creative commons. Level 4 books are suited and aimed for children who can read fluently and with confidence.
Text and Images स्वतंत्रता की ओर – Hindi Story Marching to Freedom
धनी को पता था क आम म कोई बड़ी योजना बन रही है, पर उसे कोई कुछ
न बताता। "वे सब समझते ह क म नौ साल का  इसलए म बु  । पर म
बु नह!" धनी मन-ही-मन बड़बड़ाया।
धनी और उसके माता-पता, बड़ी ख़ास जगह म रहते थे। अहमदाबाद के
पास, महामा गाँधी के साबरमत आम म-जहाँ पूरे भारत से लोग रहने आते
थे। गाँधी जी क तरह, वे सब भी भारत क वतंता के लए लड़ रहे थे। जब
वे आम म ठहरते तो चरख पर खाद का सूत कातते, भजन गाते और गाँधी
जी के यान सुनते।
साबरमत म सबको कोई न कोई काम करना होता-खाना पकाना, बतन धोना,
कपड़े धोना, कुएँ से पानी लाना, गाय और बकरय का ध हना और सज़ी
उगाना। धनी का काम था-बनी क देखभाल करना। बनी, आम क एक
बकरी थी। धनी को अपना काम पसद था यक बनी उसक सबसे अछ
दोत थी। धनी को उससे बात करना अछा लगता था।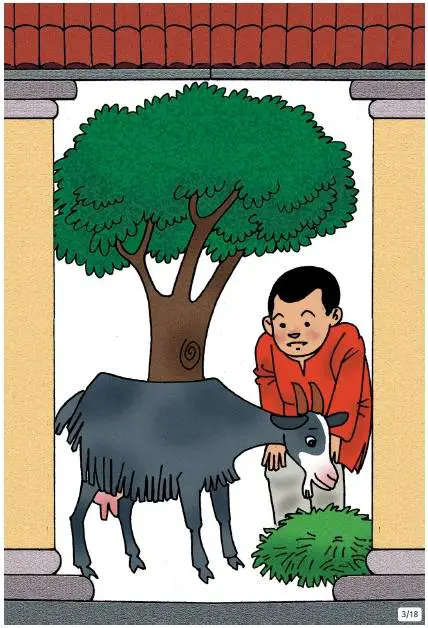 उस दन सुबह, धनी बनी को हरी घास खला कर, उसके बतन म पानी
डालते ए बोला, "कोई बात ज़र है बनी! वे सब गाँधी जी के कमरे म
बैठकर बात करते ह। कोई योजना बनाई जा रही है। म सब समझता ।"
बनी ने घास चबाते ए सर हलाया, जैसे क वह धनी क बात समझ रही
थी। धनी को भूख लगी। कूदती-फाँदती बनी को लेकर वह रसोईघर क
तरफ़ चला। उसक माँ चूहा फँू क रही थ और कमरे म धुआँ भर रहा था।
"अमा, या गाँधी जी कह जा रहे ह?" उसने पूछा। खाँसते ए माँ बोल, "वे
सब या पर जा रहे ह।"
"या? कहाँ जा रहे ह?" धनी ने सवाल कया।
"समु के पास कह। अब सवाल पूछना बद करो और जाओ यहाँ से धनी!"
अमा ज़रा गुसे से बोल, "पहले मुझे खाना पकाने दो।"
धनी सज़ी क यारय क तरफ़ नकल गया जहाँ बूढ़ा बदा आलू खोद रहा था।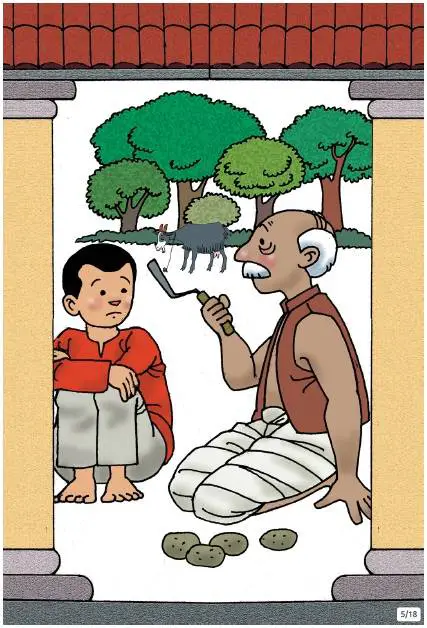 "बदा चाचा," धनी उनके पास बैठ गया, "आप भी या पर जा रहे ह या?"
बदा ने सर हला कर मना कया। उसके कुछ बोलने से पहले धनी ने
उतावला होकर पूछा, "कौन जा रहे ह? कहाँ जा रहे ह? या हो रहा है?"
बदा ने खोदना रोक दया और कहा, "तुहारे सब सवाल के जवाब गा पर
पहले इस मुई बकरी को बाँधो! मेरा सारा पालक चबा रही है!"
धनी बनी को खच कर ले गया और पास के नीबू के पेड़ से बाँध दया। फर
बदा ने उसे या के बारे म बताया। गाँधी जी और उनके कुछ साथी गुजरात
म पैदल चलते ए, दाँडी नाम क जगह पर समु के पास पचगे। गाँव और
शहर से होते ए पूरा महीना चलगे। दाँडी पच कर वे नमक बनायगे।
<end of sample स्वतंत्रता की ओर – Hindi Story Marching to Freedom>
See also the English version of Marching to Freedom:
Marching to Freedom English Version
Read Along with the Video Below
Fun facts of History (From Marching to Freedom)
1. In March 1930, Mahatma Gandhi led the march to Dandi to protest against the tax on salt imposed by the
British. Gandhi and his followers walked through Gujarat for 24 days. All along the way, they were welcomed with flowers and songs. Newspapers across the world carried reports about the march.
2. At Dandi, Gandhi and his followers collected salt from the seashore and were arrested. The arrest sparked off the Non-cooperation Movement, and people all over India boycotted schools, colleges, and offices.
3. There were 78 volunteers who accompanied Gandhi on the march. They covered a distance of 385 kilometres.
4. The march began on 12 March and ended on 5 April 1930. The youngest marcher was 16 years old.
5. The year 2005 marks the 75th anniversary of the Dandi March.
---
See more books' in Hindi below
See more books about history below
See more inspirational books below
About Pratham Books
Pratham Books goes digital, FKB  is helping with their aim to get a book in every child's hand!
Storyweaver, their digital platform is provided to weave a whole new chapter in the realm of multilingual children's stories. Knitting together children, authors, illustrators and publishers. Folding in teachers, and translators. Creating a rich fabric of openly licensed multilingual stories for the children of India and the world. Their unique online platform, StoryWeaver, is a playground where children, parents, teachers and librarians can get creative, using the resources to make your own unique books online.
About Creative Commons
Content under Creative Commons licenses can be downloaded, translated and can even be used to create new stories ‐ provided you give appropriate credit, and indicate if changes were made. To know more about this, and the full terms of use and attribution, please visit the following.
See more Pratham books' Storyweaver below
---
Sponsored Links:
Note – if you sign up through these links, it doesn't cost you any extra, but FKB receives a small donation, which helps us with our project to buy more FREE Hardcopies   for kids who need them

All our posts are checked by Grammarly, the FREE online grammar checker (We still receive a donation even if you only sign up for the free account :-):