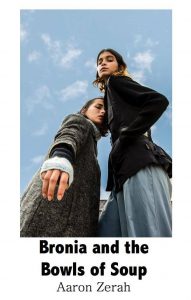 Bronia and the Bowls of Soup is a short tale of a young girl's experience growing up in the ghettos and concentration camps in Poland and Germany. Bronia is a normal Jewish kid at Grade school in Poland, her family owns a small clothing shop and life is stable and happy.
As Germany invades Poland her life is thrown into turmoil. First they are in ghettos in Poland with nothing but the clothes on their back, then shipped to German concentration camps (Auschwitz and Bergen-Belsen where she is made to work.
Throughout the 6 years of war Bronia survives by keeping her spirits high and by helping everyone around her with bowls of soup and dollops of care and laughter. This is a survivor story that will have you in tears as you imagine how someone so young survived such life threatening events with her life when many didn't, and did so by giving away her own soup, her own subsistence to others who needed it more.
Sample from – Bronia and the Bowls of Soup 
My name is Bronia and I'm 89 years old. I just had a very big birthday party and thirty
of my friends came to celebrate with me. I was very happy!
My life is very beautiful! I have two wonderful sons, identical twins, and two
grandchildren, a boy and a girl, and I love them with all my heart.
Today, I want to tell you a story about how my life was when I was a girl.
When I was a Girl
When I was a little girl I lived with my mother Miriam and my grandmother and
grandfather in a small city in Poland. My family owned a clothing store and my
grandfather was one of the first people in the whole country to sell jeans.
We also sold jewelry that my father brought from places very far away. Every time he
came back from one of his long trips, he always treated me to ice cream or the
special wafer cookies I loved so much!
I liked going to school because I enjoyed learning new things, and also because all of
my closest friends, Jewish children like me, went there too.
Sometimes, I made up stories for all of us at school to act out. Everyone had a part to
play and it was really fun!
I believe I began to love stories when I was very small. My mother took me with her
to the movies or the theatre, and my grandfather told me lots of stories from the Bible
about women and men who were great heroes. In my imagination, I wondered what
kind and brave things I might do.
One Day Things Changed
Then, when I was only ten-years-old, everything changed. One day, just after coming
home from summer camp, I ate a bunch of blueberry turnovers fresh out of my
grandmother's oven. Suddenly, I felt terribly sick. I had such a horrible pain in my
belly I had to be taken to the hospital. I needed an operation to make me better and I
was really worried I'd miss the start of school.
<end of excerpt>
About the author and the story
This is the true story of the Author, Aaron Zerah's Mother, how she survived against all odds, and now thrives, to this day,  with a family in Canada.
More Inspirational books below 
More books about History below 
---
Sponsored Links:
Note – if you sign up through these links, it doesn't cost you any extra, but FKB receives a small donation, which helps us move towards our aim of
FREE Hardcopies!  
All our posts are checked by Grammarly, the FREE online grammar checker (We still receive a donation even if you only sign up for the free account :-):


This site is hosted by Bluehost:

Leave a comment (it won't be public) if you want help getting your own website cost-effectively.