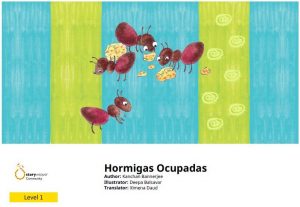 Hormigas Ocupadas – Busy Ants Spanish version tells the story about these amazing little creatures and how besides being small gives them an advantage on collecting food. Let us follow them and see how they go about their lives day by day. This book is one of the four books in the 'Animals Around Us' series licensed under creative commons.
This is a Spanish Level 1 book brought to us by Pratham's Storyweaver. This book is leveled to children ages 2-5 or for those who are just started reading. Level 1 books have a lot of pictures in them to help children identify with the story and words.
Hormigas Ocupadas (Spanish), translated by Ximena Daud (© Ximena Daud, 2015), based on original story Busy Ants (English), written by Kanchan Bannerjee, illustrated by Deepa Balsavar, published by Pratham Books (© Pratham Books, 2015) under a CC BY 4.0 license on StoryWeaver. Read, create and translate stories for free on www.storyweaver.org.in
Download or read the flipbook of this Busy Ants Spanish story on the buttons below the post.
Sample from Hormigas Ocupadas – Busy Ants Spanish Level 1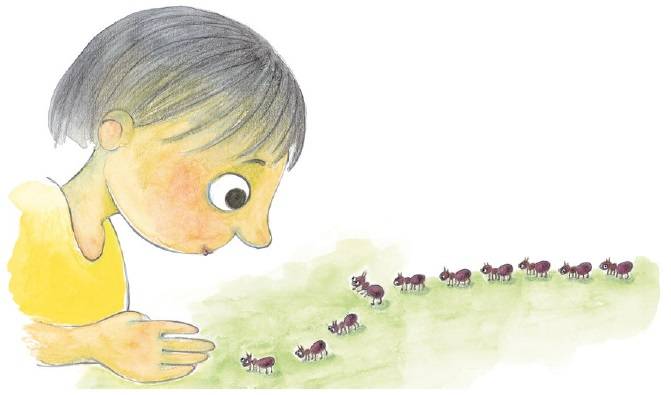 Hola, soy la cuarta en la fila. ¿Puedes verme?
Izquierda, derecha, izquierda, derecha. Caminamos silenciosamente en línea.
Tengo una idea.
¡Voy a conseguir un par de ruedas para moverme más rápido!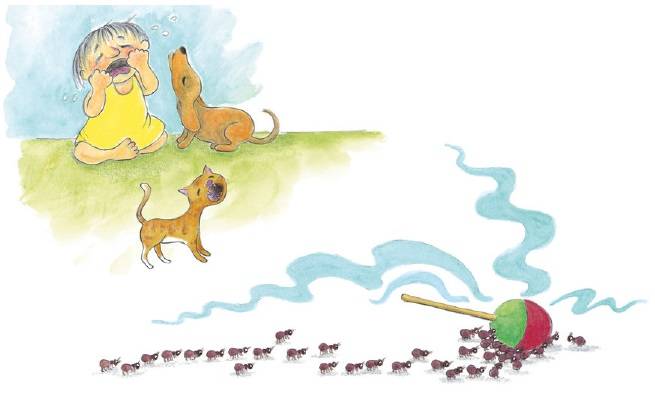 No somos tan ruidosos como otros animales.
Nuestro lenguaje es el de los olores
Por ejemplo, un tipo de olor dice:
"Síganme, por este camino hay un banquete"
Otro dice: "¡Peligro! No vayas ahí."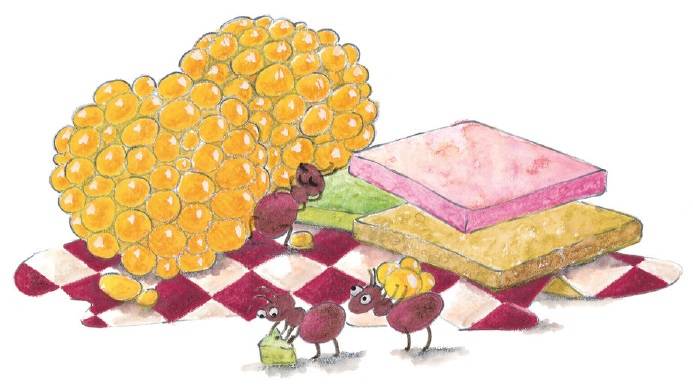 Yo amo los pasteles y todo tipo de dulces, quizás como tú.
¿Quieres ver mis músculos en acción?
No hay problema si la puerta esta cerrada.
Puedo entrar por los espacios más pequeños.
Lo crean o no, cientos de nosotras vivimos felizmente en una colonia.
<end of sample from Busy Ants Spanish story>
Aprendamos palabras nuevas
Pequeño – Grande
Lento – Rápido
Bajo – Alto
Delgado – Gordo
Duro – Blando
Ruidoso – Tranquilo
Esas son palabras con sus opuestos.
¿Puedes hacer una oración con ellos?
Por ejemplo: "Una hormiga es pequeña, un
elefante es grande".
About Pratham, Read India
Pratham Books was set up in 2004, as part of the Read India movement, a nation-wide campaign to promote reading among children. Pratham Books is a not-for-profit organization that publishes quality books for children in multiple Indian languages. Pratham's mission is to see "a book in every child's hand" and democratize the joy of reading.
Pratham's books are available now in digital form on the Storyweaver platform.
Read Hormigas Ocupadas in different versions below
Busy Ants English Level 1 Pratham Books 
See more Pratham books' Storyweaver below
See more books in Spanish below
See more books in French below
---
Sponsored Links:
Note – if you sign up through these links, it doesn't cost you any extra, but FKB receives a small donation, which helps us move towards our aim of
FREE Hardcopies!  
All our posts are checked by Grammarly, the FREE online grammar checker (We still receive a donation even if you only sign up for the free account :-):