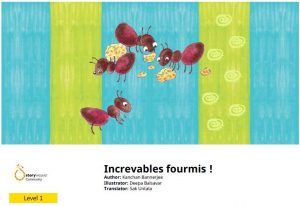 Increvables fourmis ! – Busy Ants French version, come and follow the ants as they show us all the things that they can do and what they like to do. Let us find out what the ants and us have in common, and see how besides being small can achieve great feats through super strength and amazing team work. Let us discover how these unique creatures live their lives day by day. This book is one of the four books in the 'Animals Around Us' series.
This is a French Level 1 Book, community translation. The orignal version of this book is brought to us by Pratham's Storyweaver, Level 1 books are perfect for early young readers who want to begin reading. Level 1 books has wonderful pictures on every page to keep little children interested and help them visualize the story.
Increvables fourmis ! (French), translated by Sak Untala (© Sak Untala, 2015), based on original story Busy Ants (English), written by Kanchan Bannerjee, illustrated by Deepa Balsavar, published by Pratham Books (© Pratham Books, 2015) under a CC BY 4.0 license on StoryWeaver. Read, create and translate stories for free on www.storyweaver.org.in
Sample from Increvables fourmis ! French Level 1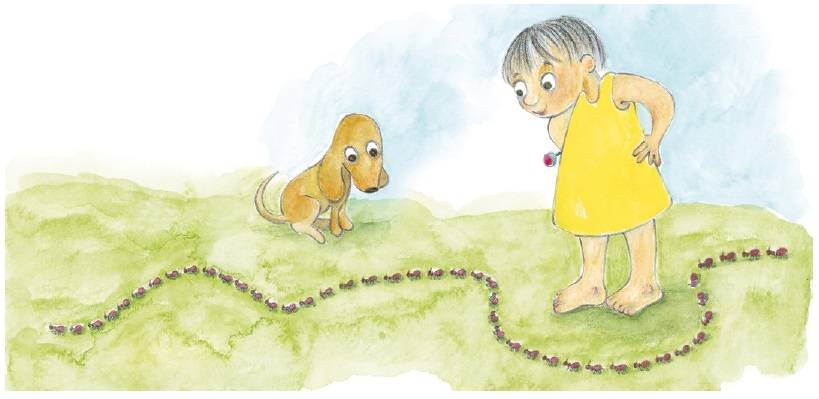 Coucou, je suis la quatrième dans la file. Tu me vois ?
Une-deux ! Une-deux !
Nous marchons à la queue leu leu sans faire de bruit.
Je viens d'avoir une idée. Je vais utiliser des ROULETTES pour aller plus vite !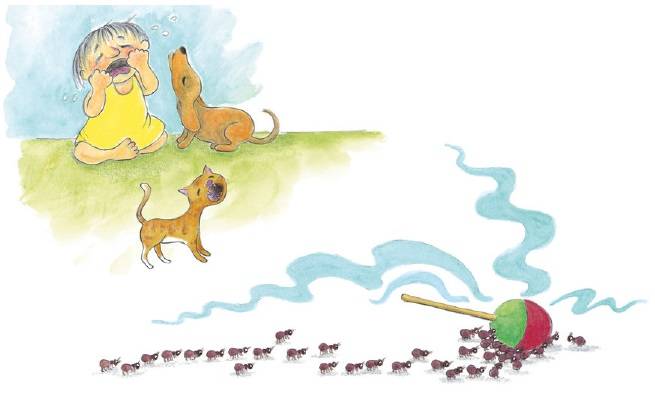 Nous ne poussons pas de cris comme les autres animaux.
Nous utilisons le langage des odeurs.
Certaines odeurs nous disent :
« Viens par là, tu vas te régaler ! »
D'autres odeurs nous disent :
« Non, ne va pas par là, c'est dangereux ! »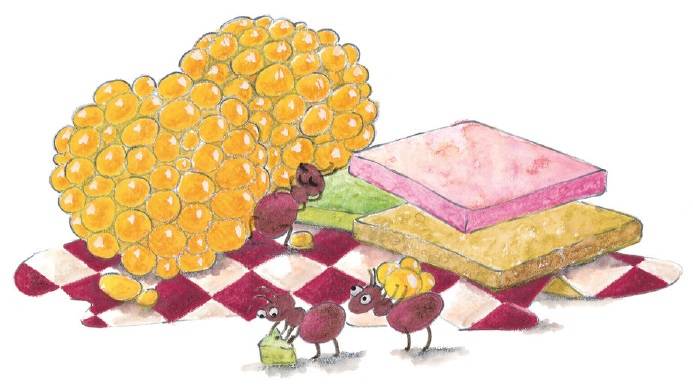 Comme toi, j'adore les gâteaux et les sucreries.
Tu as vu mes muscles en pleine action ?
Tu me trouves minuscule, d'accord, mais sache que je suis très forte par rapport à ma taille.
Je m'en fiche que la porte soit fermée. Je peux me faufiler dans les moindres interstices.
Nous sommes très heureuses de vivre par centaines au sein d'une même colonie.
<end of sample from Busy Ants French Version>
Découvre quelques mots nouveaux :
Lent – Rapide
Petit – Grand
Mince – Gros
Dur – Doux
Bruyant – Silencieux
Voici quelques mots et leur contraire. Peux-tu faire une phrase à partir de ces paires de mots ?
Par exemple, « une fourmi est petite, un éléphant est grand ».
« Travailler comme une fourmi » se dit d'une personne qui travaille beaucoup.
About Pratham, Read India
Pratham Books was set up in 2004, as part of the Read India movement, a nation-wide campaign to promote reading among children. Pratham Books is a not-for-profit organization that publishes quality books for children in multiple Indian languages. Pratham's mission is to see "a book in every child's hand" and democratize the joy of reading.
Pratham's books are available now in digital form on the Storyweaver platform.
Read Increvables fourmis ! in different versions below
Busy Ants English Level 1 Pratham Books
See more Pratham books' Storyweaver below
See more books in Spanish below
See more books in French below
---
Sponsored Links:
Note – if you sign up through these links, it doesn't cost you any extra, but FKB receives a small donation, which helps us move towards our aim of
FREE Hardcopies!  
All our posts are checked by Grammarly, the FREE online grammar checker (We still receive a donation even if you only sign up for the free account :-):