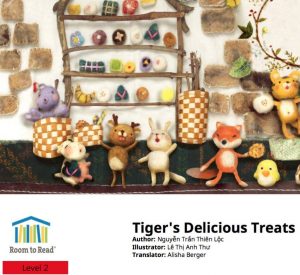 In Tiger's Delicious Treats, tiger loves baking. Everyday tiger bakes pies, he desperately wants to sell them, but they don't sell. Meanwhile, all the other animals smell the pies and desperately want to taste them but why don't they buy the pies? Find out more in this amusing misunderstanding and more amusing solution. Will tiger ever sell his pies?
Author: Nguyễn Trần Thiên Lộc
Illustrator: Lê Thị Anh Thư
Translator: Alisha Berger
Sample text from Tiger's Delicious Treats
Tiger lives in a forest. He loves to bake.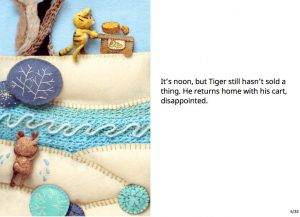 One day, he bakes a delicious batch of green bean pies. He loads them on a cart and goes to the stream to sell them.
The wind carries the aroma of pies through the air.
<End of Sample text from Tiger's Delicious Treats>
Select Download or read online below the post to see the full book.
About Pratham, Read India
Pratham Books was set up in 2004, as part of the Read India movement, a nation-wide campaign to promote reading among children. Pratham Books is a not-for-profit organization that publishes quality books for children in multiple Indian languages. Pratham's mission is to see "a book in every child's hand" and democratize the joy of reading. Pratham's books are available now in digital form on the Storyweaver platform.
See more books from Pratham-Storyweaver in our Pratham Storyweaver category.
---
Sponsored Links:
Note – if you sign up through these links, it doesn't cost you any extra, but FKB receives a small donation, which helps us move towards our aim of
FREE Hardcopies!  
All our posts are checked by Grammarly, the FREE online grammar checker (We still receive a donation even if you only sign up for the free account :-):


This site is hosted by Bluehost:

Leave a comment (it won't be public) if you want help getting your own website cost-effectively.