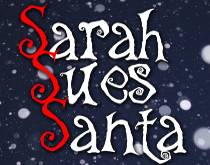 Sarah Sues Santa – Sarah Pebbleton has been an angel all year, writing to Santa and doing everything she's told. But Santa still didn't bring her exactly what she wanted! This is the last straw, Sarah furious, writes back to Santa, one more letter: to tell him she'll be suing him. The reply Sarah gets is more than she expects, an epic journey begins to some very different houses where Christmas is celebrated very differently.
By: P. J. Leonard
Sarah learns the most important lessons of her life about the Christmas spirit and about fairness. Back home she wonders if it was all a dream, but the lesson and memories will stay with her forever, as it will anyone who reads this amazing and exciting Christmas adventure. A great early chapter book for older children, and some excellent reading for the Christmas holidays. Words: 25,320.
Sample Text From Sarah Sues Santa:
It was the smell of the turkey. Yes, that was the reason why she couldn't sleep. For some reason Sarah could never understand, her parents always started cooking Christmas dinner a whole day before Christmas.
"It's a big ol' bird!" her Dad had told her in the supermarket when she'd asked, "It takes a while to heat up." "But it don't look any bigger than a chicken!" Sarah had said, peering at the lumpy packaging stacked in the shopping trolley.
Dad had looked uncomfortable when she'd said that for some reason, rubbing his head and looking a little lost as he stared at the cheese section.
Was it something I said? Sarah pulled her duvet tighter over her head, and she felt a cold chill shoot up her legs as the warm cover slid off of her feet. She pulled in her legs and shivered – not with cold, but with excitement. Tomorrow is Christmas Day! Finally!
<End of Sample Text From Sarah Sues Santa>
Or read along the video below
About the Author:  
P.J. Leonard grew up in Worcester, UK. He started writing at the early age of nine. It all started with a one page short story assignment, that turned into a 10 page work of art. Since then he has been writing magnificent stories, falling in love with Japanese Culture, and the scenery when he is hiking. He choose to reside there in 2010.
Check Out More Chapter Books:
Check Out More Adventure Books:
---
Sponsored Links:
Note – if you sign up through these links, it doesn't cost you any extra, but FKB receives a small donation, which helps us move towards our aim of
FREE Hardcopies!  
All our posts are checked by Grammarly, the FREE online grammar checker (We still receive a donation even if you only sign up for the free account :-):