Do Not Feed The Troll is a hilarious, and award winning middle grade fiction story about a troll. This is a great early chapter book for boys and girls. It also makes perfect for reading as a to be continued bedtime story with younger children, excitement that will have them begging to go to bed!
The second novel Roboteers Novel by Ryan Cartwright.
More versions are available on Ryan's website: http://crimperbooks.co.uk/troll/
About The Book Do Not Feed The Troll:

When Martin's family moved house his Dad told him things would be better: he'd have more space to make his models, his sister would have her own bookshelves so she wouldn't use his ones and Dad would be doing all his beer brewing in the garden.
Nobody said anything about a troll under the lawn!
At first they think the troll is cute and funny but things never stay that way. Soon it takes over their whole lives and they realise they should have heeded the warning they found with it:
DO NOT FEED THE TROLL!
Sample Text From Do Not Feed The Troll
Chapter 1
Moving house is supposed to make life better. Dad had said it would make life better because it would be 'a new start'. It was supposed to be a way to put the last year behind us. It was supposed to be better. It was not better. It was most definitely worse. In fact it couldn't have been any worse. It started bad and then it went downhill and then, just when I thought it couldn't get any worse, it went and did.
Dad had said that when we moved we could each have something we really wanted in the new house, to make it more like home. Dad wanted space in the garden to build his brew–house and so he got it, Angie wanted extra shelves for all her books and so she got that and I wanted a three metre long, two metre wide work–surface, suspended on pulleys from the ceiling in my room. I could build my models on it and hoist it up overnight so Dad and Angie didn't touch them.
I didn't get what I wanted.
Apparently the ceiling in my room isn't strong enough or something. I wouldn't have minded if Dad had even tried to fit one pulley but he just poked his head into the loft, shone his 'phone around for a bit – he didn't even use a proper torch – and then came back down shaking his head.
Sometimes life is just not fair!
<End of Page 1>
Book Awards: Winner of the Wishing Shelf Award 2015
About the Author:
Ryan Cartwright Lives in the UK with his family. He won the Wishing Shelf Independent Books Awards 2015 (6-8 yr old category) with his book "Do not feed the Troll". Apart from being an Author, he is also a web developer and cartoonist.
His first book Sugar the Robot that was published in the summer of 2013 was written following a story-telling with his two children.
He and his family share the love of stories and during one story time he made up a tale about a Toy Robot who came to life and escaped from his owner's bedroom, and that tale become his first book "Sugar the Robot and the race to save the Earth".
More Books From Ryan Cartwright on Free Kids Books
https://freekidsbooks.org/tag/ryan-cartwright/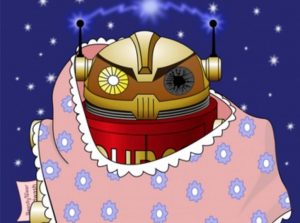 Sugar the Robot and The Race To Save Earth is a wonderful early science fiction book.
Tim is mad about robots. He even has robot underwear. He dreams of one day having his own robot – and he'd be a good, kind robot too! But that's likely only possible when he grows up and goes to university, he's only ten, right? When Tim fixes the toy robot his grandad gives him, his dream may come true early, along with an exciting adventure, and a race to save the planet, somehow mixed up with some lost laundry.
https://media.go2speed.org/brand/files/grammarly/3/20160818154106-491searchbannerads6_728x90.png
Check Out More Chapter Books:
See more Adventure books below
---
Sponsored Links:
Note – if you sign up through these links, it doesn't cost you any extra, but FKB receives a small donation, which helps us with our project to buy more FREE Hardcopies   for kids who need them

All our posts are checked by Grammarly, the FREE online grammar checker (We still receive a donation even if you only sign up for the free account :-):