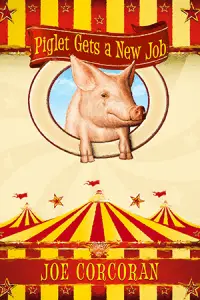 Piglet gets a new job is a delightful early chapter book, a modern fairy tale with a heart-warming heroine and a poignant message, which will entertain children and adults alike.
Since before she could remember, the piglet had been part of the circus, but now she has been thrown out and left to fend for herself. All she really wants to do is to go back – to be accepted again into the only family she has ever known – but is this really the best thing for her? To find out, she must travel a long way and show great determination. There is a whole new world for her to discover, and she will find out who her real friends are – but will she let herself see them?
Total words: 11,140
Excerpt:
The piglet did not get paid for her job, which was very unfair considering how dangerous it was. She did get a certain satisfaction from carrying out her duties, but this was not the main reason that she never once complained about her lack of pay. The fact was that she had no idea about money.
You might say that a more intelligent piglet would have figured it out by her age. Everyone who came to see the circus paid for their tickets in coins – silver or copper, depending on their circumstances. For the circus folk, money, or rather the lack of it, was one of their favourite topics of conversation.
Certainly the man who fed the piglet never failed to mention money during his visits to her. "You'll eat us out of house and home, you will," he said as he poured the slops into the trough, but to the piglet this sounded no different to 'enjoy your meal' or 'bon appetit'.
Thinking about it afterwards, with the benefit of old age and wisdom, the piglet concluded that she had just not needed to know about money at that stage in her life. She was fed daily. She had clean straw to sleep on. She had plenty of free time to play with the circus children. In return, she allowed herself to be fired from a cannon three times daily. Until one day.
Continue Reading This Book Online here: https://freekidsbooks.org/piglet-gets-a-new-job-read-online/
About the Author:
Joe Corcoran was born in Sheffield, grew up in Manchester, was educated in Cambridge and now works in London. He is a devoted husband to Mickey and proud father of Toby, who is the patient recipient of many stories in the making. They live in a nice little house in Twickenham, home of English rugby and match day traffic congestion. Together, Joe and Toby wage an eternal battle against urban foxes – especially their droppings.
The income from his writing being negative, Joe pays the rent by working for a big multi-national. He is an expert in supply chain, which is the art of getting the things that people want to sell to the place where people want to buy them, and he travels the world dispensing advice on the subject. When he is not traveling, Joe works in an office in central London. He commutes every day by train, which provides his main opportunity for writing stories.
Here's What Joe says about how he wrote Piglet Gets a New Job:
"I wrote this story when I was on holiday with my family. We were on a campsite in France, and one day a wild boar came running right past our tent. That night I had a dream about a Piglet who found a magical world. I didn't know what the dream meant, so I wrote down the story. I wrote it all in about five days flat, it was so clear in my head. In the evenings, while we barbecued sausages (always sausages) for dinner, I would read to my son what I'd completed that day.
I would never have written quite enough to satisfy his curiosity, so I was always encouraged to keep on writing the next day. When I finished, on the fifth day, he was very happy with the ending. I wasn't. You see, I still didn't know what my dream meant! If you think you know, please help me out, leave a comment on it here."
See also by Joe Corcoran:  Bad Brad Saves Christmas
Similar books can be found in our Older Children Section
You can find this book in more formats at Joe's Smashwords site here: https://www.smashwords.com/profile/view/corcorelli
See more books by Joe Corcoran below
Check Out More Chapter Books:
---
Sponsored Links:
Note – if you sign up through these links, it doesn't cost you any extra, but FKB receives a small donation, which helps us with our project to buy more FREE Hardcopies   for kids who need them

All our posts are checked by Grammarly, the FREE online grammar checker (We still receive a donation even if you only sign up for the free account :-):