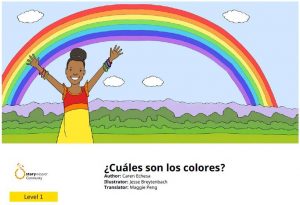 ¿Cuáles son los colores? is the spanish version of 7 Colours Of A Rainbow. In this picture book young children will learn the different colours of the rainbow and where these colours could be seen in everyday life. Perfect for young children to learn new words and name and identify colours.
This is a Spanish Level 1 Picture book brought to us by Pratham's Storyweaver under a creative commons license. This is perfect for young readers who want to start reading. This Spanish Level 1 book is suited for children aged 2-5 years old or beginner Spanish. It has a lot of colourful pictures that compliment what is being said in the story.
¿Cuáles son los colores? (Spanish), translated by Maggie Peng (© Maggie Peng, 2015), based on original story 7 Colours of a Rainbow (English), written by Caren Echesa , illustrated by Jesse Breytenbach , published by African Storybook Initiative (© African Storybook Initiative, 2015) under a CC BY 4.0 license on StoryWeaver. Read,
create and translate stories for free on www.storyweaver.org.in
Text from ¿Cuáles son los colores? – Spanish Level 1 Picture book
¿Cuáles son los siete colores en el arco de iris?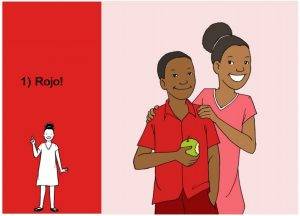 1) Rojo!
El hermano de la niña lleva una camisa roja.
2) Naranja!
La niña tiene un naranja fruta.
A la cerca de la niña hay un gato naranja y un pez naranja.
3) Amarillo
La niña lleva una camisa amarilla.
La flor es amarilla también.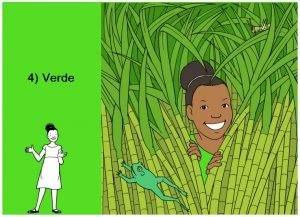 4) Verde
Los bambús y la rana son verdes.
5) Azul
El cielo es azul.
La niña lleva una camisa azul.
Los pájaros son azules tambien.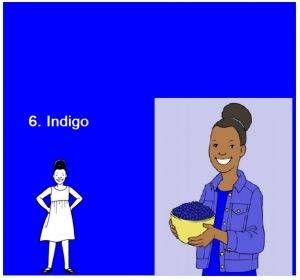 5) Índigo
La ropa de la niña es índigo.
Los arándanos son índigos también.
7) Violeta
Los flores y el vestido de la niña son violeta.
¡Violeta es el colormejor!
¿Cuál es tu color favorito?
<end of book – What are the Colours – Spanish story>
'7 Colours of a Rainbow' was published on African Storybook, adapted by Jane Taylor and African Storybook © African Storybook Initiative 2015 www.africanstorybook.org with the Vision of providing children with an open access to picture storybooks in the languages of Africa to develop their literacy, enjoyment and imagination.
Read this book in different versions below.
Early Learning STEM
7 Colours of the Rainbow – A Hindi Story
See more books in Spanish below
See more books about Colours below
---
Sponsored Links:
Note – if you sign up through these links, it doesn't cost you any extra, but FKB receives a small donation, which helps us move towards our aim of
FREE Hardcopies!  
All our posts are checked by Grammarly, the FREE online grammar checker (We still receive a donation even if you only sign up for the free account :-):