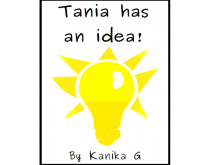 Tania Has An Idea – Tania wants to make something for here mama's birthday, as she hasn't any pocket money yet to buy a gift. She wants it to be special and to make it herself, but what can she make? Find out in this adventure from Kanika G's series about Tania and her adventures.
By: Kanika G
Sample Text From Tania Has An Idea:
Tania was growing up. Certainly, She was getting older, bigger and taller. She was also learning new things and getting smarter. But that was not all. She was becoming more thoughtful and considerate. She was shaping up to be a delightful little girl.
Tania had enjoyed celebrating her fourth birthday. She loved all the birthday presents she got. She asked everyone in the family when their birthdays were. The next birthday was Mama's. In a week Mama would turn 33 and Tania wanted to do something special for her.
Tania did not yet get pocket money, so she could not buy Mama a gift. She decided to make one instead.
<End of Sample Text From Tania Has An Idea>
About the Author:
Kanika G is a physicist who began writing to entertain her daughter, a very successful hobby which led to the popular Tania series. She now has a large range of children's books enjoyed by many readers. You can read more abut Kanika here:  https://freekidsbooks.org/author-biography-kanika-g/ 
About the Tania Series
Kanika G is a physicist and mother of two. She started writing to entertain her first child when she was two. Each book would be read to her daughter, and this would form a critique and improvement cycle for the book. She now has over 30 Tania books and more books for young children and children learning to read.
Tania Series:
Read More about Tania on Free Kids Books here: https://freekidsbooks.org/tag/tania/
For All of Kanika's books on Free Kids Books, and more about the author see here: https://freekidsbooks.org/author/kanika-g/