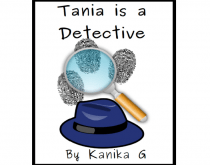 Tania is a Detective – Tania's favourite toy, Anne, goes missing, Tania and her mama follow a sequence of deductive reasoning to track her down. Another story in the Tania series, about a pre-school girl's adventures with her family and friends.
By: Kanika G
Sample Text From Tania is a Detective:
Tania and mama were in the park. Tania wanted to sit on the merry-go-round. As usual, she had taken Anne with her. Anne was Tania's favourite doll. Mama put Tania on one of the seats of the merry-go-round and Anne on another seat. Then mama pushed it to make it go round. Tania was delighted and shouted, "Faster mama, faster! I want it to go faster." So mama pushed harder and soon it was going quite fast.
<End of Sample Text From Tania is a Detective>
About the Author:
Kanika G is a physicist who began writing to entertain her daughter, a very successful hobby which led to the popular Tania series. She now has a large range of children's books enjoyed by many readers. You can read more abut Kanika here:  https://freekidsbooks.org/author-biography-kanika-g/ 
About the Tania Series
Kanika G is a physicist and mother of two. She started writing to entertain her first child when she was two. Each book would be read to her daughter, and this would form a critique and improvement cycle for the book. She now has over 30 Tania books and more books for young children and children learning to read.
Tania Series:
Read More about Tania on Free Kids Books here: https://freekidsbooks.org/tag/tania/
For All of Kanika's books on Free Kids Books, and more about the author see here: https://freekidsbooks.org/author/kanika-g/