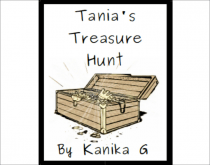 Tania's Treasure Hunt – It's Tania's fourth birthday, Mama and Papa have arranged a game. Tania has fun solving the clues to a treasure hunt to find her present, can you help her find the answers to the riddles?
By: Kanika G
Sample Text From Tania's Treasure Hunt:
It was the morning of 2nd March, 2014. A very special day indeed. It was Tania's 4th Birthday, and on a Sunday too. Tania would not have to go to school. She could spend the whole day celebrating her birthday with mama, papa and her pet cat Kazoo.
Mama had arranged a little birthday party for Tania and her friends in the evening. They would bring her presents, Tania loved getting presents.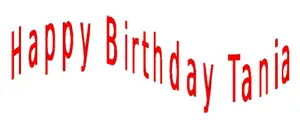 Mama had planned a special birthday morning treate for Tania. Every year she gave Tania her birthday present after breakfast. This year she decided to add some excitement to the ritual. She said,
" Tania, your birthday present is hidden somewhere in the house. You are going to find it. Do you know what that is?".
<End of Sample Text From Tania's Treasure Hunt>
About the Author:
Kanika G is a physicist who began writing to entertain her daughter, a very successful hobby which led to the popular Tania series. She now has a large range of children's books enjoyed by many readers. You can read more abut Kanika here:  https://freekidsbooks.org/author-biography-kanika-g/ 
About the Tania Series
Kanika G is a physicist and mother of two. She started writing to entertain her first child when she was two. Each book would be read to her daughter, and this would form a critique and improvement cycle for the book. She now has over 30 Tania books and more books for young children and children learning to read.
Tania Series:
Read More about Tania on Free Kids Books here: https://freekidsbooks.org/tag/tania/
For All of Kanika's books on Free Kids Books, and more about the author see here: https://freekidsbooks.org/author/kanika-g/