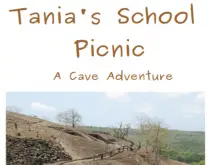 Tania's School Picnic – Tania and her friends are going on a school picnic exploring the Kanheri caves. Will they discover anything interesting? Another great free kids book from Kanika G
By: Kanika G
Sample Text From Tania School Picnic:
Tania's School Picnic The children in Tania's class at school were chattering excitedly. The soft spoken and mild tempered Miss Gupta had to bang her desk rather violently to get their attention. She said, "I am glad you are all so excited about the picnic at Kanheri caves. However, the picnic is next week and you can discuss it after class. Right now we need to get back to work."
<End of Page 1>
About the Author:
Kanika G is a physicist who began writing to entertain her daughter, a very successful hobby which led to the popular Tania series. She now has a large range of children's books enjoyed by many readers. You can read more abut Kanika here:  https://freekidsbooks.org/author-biography-kanika-g/ 
About the Tania Series
Kanika G is a physicist and mother of two. She started writing to entertain her first child when she was two. Each book would be read to her daughter, and this would form a critique and improvement cycle for the book. She now has over 30 Tania books and more books for young children and children learning to read.
Tania Series:
Read More about Tania on Free Kids Books here: https://freekidsbooks.org/tag/tania/
For All of Kanika's books on Free Kids Books, and more about the author see here: https://freekidsbooks.org/author/kanika-g/