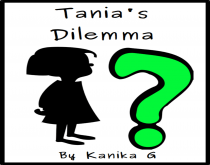 Tania's Dilemma – Tania's grandma has planned a surprise for her on Saturday afternoon. Tania is excited about it. But then her best friend invites her to a movie she really wants to see. And that is on Saturday too. Poor Tania does not want to hurt grandma's feelings but doesn't want to miss out on going to the movie with her friend. What will she do? Read on and find out. This is the 6th book in the series, about the experiences of a little girl named Tania.
By: Kanika G
Sample Text From Tania's Dilemma:
It was Saturday evening. Tania had just returned from her weekly visit to Grandma. She was telling Mama all about it. Grandma had fed Tania all her favourite foods. Then Grandma and Grandpa had taken her to the park.
Tania had used the swings and the slide to her heart's content. Grandma had shown her some nice flowers. Tania had met a man walking his dog, and the nice man let her pet his dog.
She was quite happy with the visit. just before Mama picked her up, Grandma told Tania that she planned a very special surprise for next week's visit.
<End of Sample Text From Tania's Dilemma>
About the Author:
Kanika G is a physicist who began writing to entertain her daughter, a very successful hobby which led to the popular Tania series. She now has a large range of children's books enjoyed by many readers. You can read more abut Kanika here:  https://freekidsbooks.org/author-biography-kanika-g/ 
About the Tania Series
Kanika G is a physicist and mother of two. She started writing to entertain her first child when she was two. Each book would be read to her daughter, and this would form a critique and improvement cycle for the book. She now has over 30 Tania books and more books for young children and children learning to read.
Tania Series:
Read More about Tania on Free Kids Books here: https://freekidsbooks.org/tag/tania/
For All of Kanika's books on Free Kids Books, and more about the author see here: https://freekidsbooks.org/author/kanika-g/