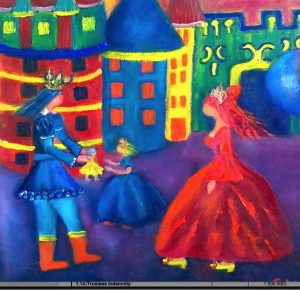 In this princess storybook about compassion and friendship, Princess Helena learns about the importance of friendship and compassion.
Princess Helena feels she has an incredibly troubled life. She has all the toys and clothes she could ever want, but she is incredibly sad. One day, everything changes, when she goes through a hole in the royal fence, and meets Felicity. Invited back to Felicity's house, her family, not knowing who she is, welcome the princess, and give her a tasty meal of a new funny named food.
The story of The Princess who did not eat Eggplants is about the value of friendship, and about doing good for those around you no matter what.
"And if you believe in this tale and you also do good things for those around you, even if you are not a princess or a king… who knows? Maybe, with your little help, this world will be a better place!"
Sample Text from The Princess Who Did Not Eat Eggplants
Once upon a time, in a marvelous palace, there lived a little princess named Helena. She had a pretty little face with big blue eyes and earrings of tiny pink pearls jeweled her ears. On her delicate hand she wore a bracelet decorated with turquoise gems. And on her tawny hair there was a small diamond crown revealing she was a princess.
Her mom, Queen Evaggelia, had sought after that her only daughter was always dressed with the finest clothes. Silken clothes, with lots of folds that made her billow out like a balloon once the wind was blowing and she was spinning around with joy.
They were full with beautiful embroidery of suns, birds, flowers and bees. You could meet all of nature on her dress.However, in spite of her finery, the little princess didn't look happy. She was wondering with sorrow around the palace's corridors and the great garden.
All alone, since she didn't have any friends or siblings.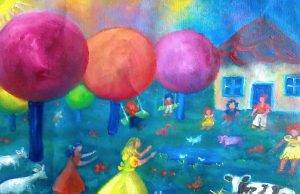 "When will I have some company, mom? I don't like it at all being all alone! So many toys but no one to play with!" she complained to her mother one day.
"You have no use for company, my beloved daughter. You don't need anyone! You are the one and only Princess Helena! You have us adoring you and a palace full of luxurious things and wonderful toys that other people couldn't even dream of!
Here, take a look at what I got for you!" said her father who just came back from another trip.The gift he gave to her with a smiling face was a talking doll. The little girl jumped to his arms eagerly.
<End of Page 1 of The Princess who did not eat Eggplants>
Select readonline, or download pdf below for the full text.
This book is brought to us by Saita, letting books fly free on the internet!
Note: This book was translated from the original Greek text, some grammar is not what would be considered Oxford English, but nevertheless we don't feel it distracts from the story in any significant way. 
About the Author
See more books from or Creative Commons Category
See more books about values and friendship below
---
All our posts are checked by Grammarly, the free online grammar checker (British English used):
This site is hosted by Bluehost:

Leave a comment (it won't be public) if you want help getting your own website cost-effectively.