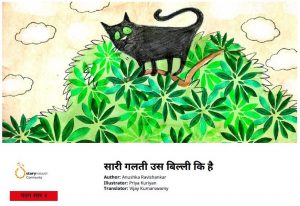 Hindi story सारी गलती उस बिल्ली कि है – a Hindi story book based on the English story It's All The Cat's Fault, The book tells a fun story of how a boy loses his homework, and blames the cat, is it really the cat's fault. Come read and see what really happened, in this iclassic variation of "the dog ate my homework" told as a Hindi story.
This is a Hindi Level 2 book from Pratham's Storyweaver. Perfect for young early readers who want to learn familiar words with help. The book has a lot of pictures to illustrate what is being told in the story.
Hindi Story सारी गलती उस बिल्ली कि है (Hindi), translated by Vijay Kumarswamy (© Vijay Kumarswamy, 2015),
based on original story It's All the Cat's Fault! (English), written by Anushka Ravishankar, illustrated by Priya Kuriyan, published by StoryWeaver (© StoryWeaver, 2015) under a CC BY 4.0 license on StoryWeaver. Read, create and translate stories for free on www.storyweaver.org.in.
Text of  सारी गलती उस बिल्ली कि है – a Hindi Story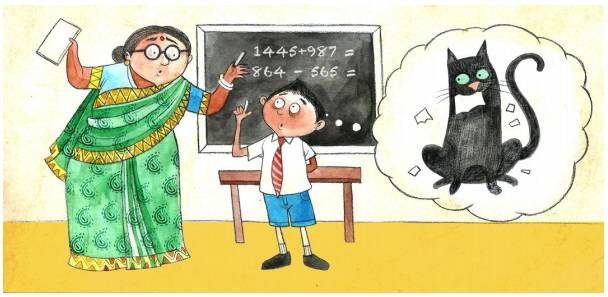 तुमने अपना ग़ृह काय य नह कया?
अगर बली पेड़ पर नह चदत , तो मुझे सीडी क ज़रत नह पड़ती
अगर मुझे सीडी क ज़रत नह होती तो मुझे उसक मरमत नह करनी पड़ती
अगर म सीडी क मरमत नह करता तो म उसके शोर से बcचे को नह जगता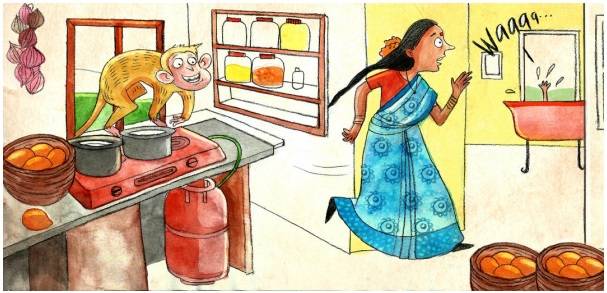 अगर म बcचे को नह जगता तो माताजी को रसोई छोडकर जाने क ज़रत नह थ
अगर माताजी रसोई छोडकर नह जाती तो बदर रसोई मे नह आता
अगर बदर रसोई मे नह आता तो वह हमारा सारा खाना नह खा जाता
अगर बदर हमारा सारा खाना नह खाता, तो पताजी को खाना खरीदने के लये चाय के कान नह जाना पड़ता
अगर पताजी चाय के कान नह जाते तो उनके पीछे एक कु घर नह आता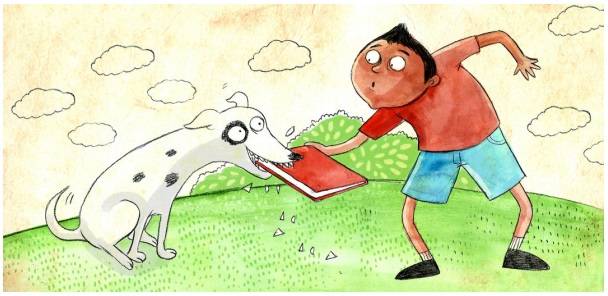 अगर वह कु मेरे घर नह आता तो वह मेरा ग़ृह काय नह चबाता
तो तुम कह रहे हो क उस कु ने तुहारा ग़ृह काय खा लया?
हाँ मस! सारी गलती उस बली क है!!
<end of text – It's all the Cat's Fault Hindi Story>
Read Along with the video below
Read the Hindi story सारी गलती उस 􀀊ब􀀌ली 􀀊क है in different language versions below.
English Version
It's All The Cat's Fault French
It's All The Cat's Fault in Spanish
See more books in Hindi below
See more books in French below
See more books in Spanish below
---
Sponsored Links:
Note – if you sign up through these links, it doesn't cost you any extra, but FKB receives a small donation, which helps us move towards our aim of
FREE Hardcopies!  
All our posts are checked by Grammarly, the FREE online grammar checker (We still receive a donation even if you only sign up for the free account :-):