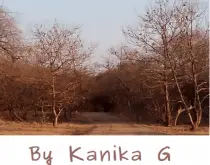 Tania's Safari Adventure – Tania goes on a family visit to Gir Forest National Park, find out about all the animals she saw there? Is it safe to get close to a lion in a Safari Park? Fortunately there are lots of other animals the lions are more interested in. Another great learning adventure with Tania and her family from Kanika G.
Sample Text From Tania's Safari Adventure:
It was late Friday afternoon. Tania and her family had just arrived at a hotel outside the Gir forest sanctuary and national park. They were spending the weekend there. Mama had arranged for a Jeep safari of the forest on Saturday afternoon. Tania was really looking forward to that.
Tania loved animals. She would get to see a lion, a real live lion. And not just in a cage at the zoo, but in the wild! Just imagine that. The lion may be just a few feet from her. That would be splendid, thought Tania. The hotel was on the banks of the Hiran river.
In the evening mama, papa, Tania and Sonia all went for a walk on the river bank. The river was fairly shallow so they all stepped in to it. The water was refreshingly cool and bits of moss floated around. Tania splashed around in the river
<End of Page 1>
About the Author:
Kanika G is a physicist who began writing to entertain her daughter, a very successful hobby which led to the popular Tania series. She now has a large range of children's books enjoyed by many readers. You can read more abut Kanika here:  https://freekidsbooks.org/author-biography-kanika-g/ 
About the Tania Series
Kanika G is a physicist and mother of two. She started writing to entertain her first child when she was two. Each book would be read to her daughter, and this would form a critique and improvement cycle for the book. She now has over 30 Tania books and more books for young children and children learning to read.
Tania Series:
Read More about Tania on Free Kids Books here: https://freekidsbooks.org/tag/tania/
For All of Kanika's books on Free Kids Books, and more about the author see here: https://freekidsbooks.org/author/kanika-g/