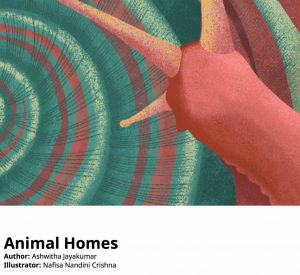 In Animal Homes, we learn about where different animals live. This is a perfect early nature lesson for young children in early grades or kindergarten and can be combined with a nature walk to find different animal homes. This is a level 1 book from Pratham, recommended for beginner readers, or kindergarten children.
Author: Ashwitha Jayakumar
Illustrator: Nafisa Nandini Crishna
Text and sample Images from Animal Homes
Animals live all around us.
Birds build their homes up high. And so do bees.
Spiders spin their homes.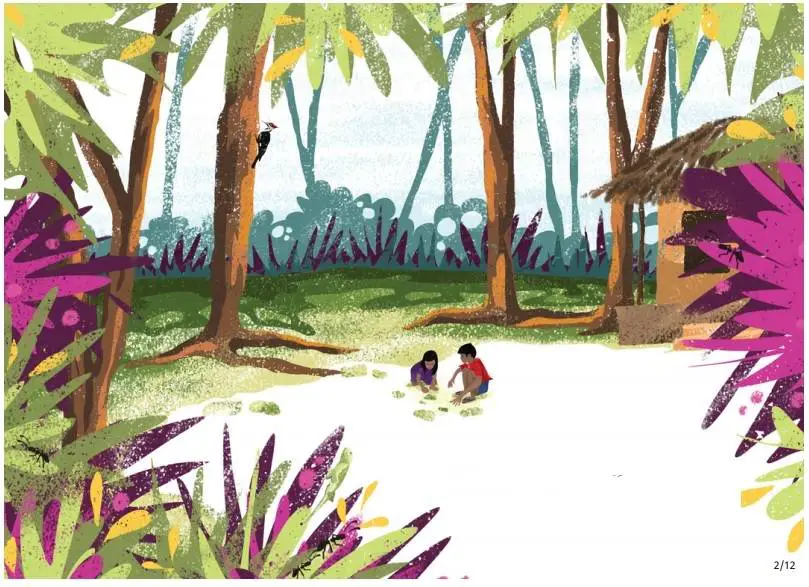 Tiny termites build tall, tall homes.
Snails and tortoises grow homes on their backs.
Fish live in the water.
Frogs can live in water and on land.
Rabbits and rats live in burrows under the ground.
Monkeys and apes make trees their homes.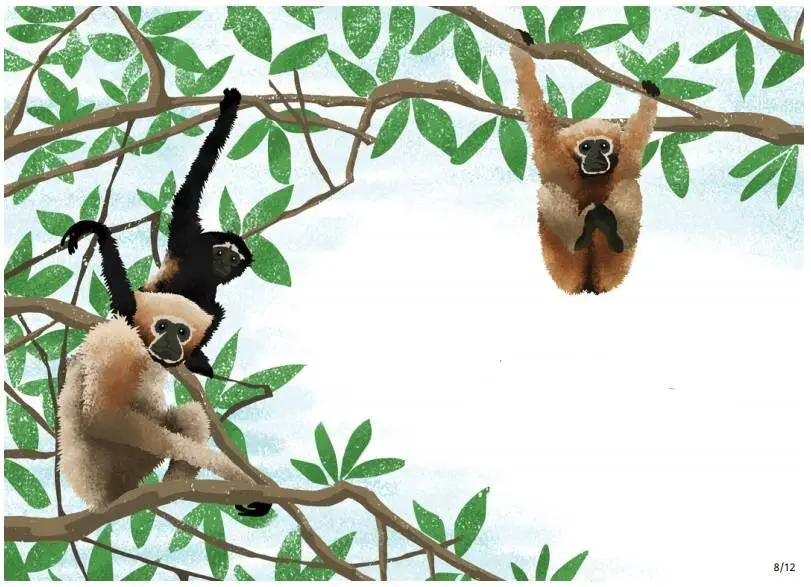 Bears and wolves live in dens.
Crocodiles live in swamps.
Deer live in forests.
And so do tigers!
One Large Home
Some animals live close to us and some live far away.
But do you know what we have in common with all the animals of the world?
We all build our homes in one large home: planet Earth!
<End of Animal Homes>
About Pratham, Read India
Pratham Books was set up in 2004, as part of the Read India movement, a nation-wide campaign to promote reading among children. Pratham Books is a not-for-profit organization that publishes quality books for children in multiple Indian languages.
Pratham's mission is to see "a book in every child's hand" and democratize the joy of reading.
Pratham's books are available now in digital form on the Storyweaver platform.
See more nature-related books in our Nature category. 
Author: Suchi Govindarajan, Illustrator: Anjora Noronha
Why Don't Birds Comb Their Hair? Is a cute book featuring a number of different bird types. This book can be a fun starting point for more research about birds. Birds featured in this book: – Himalayan Monal – Eurasian Spoonbill – Indian Grey Vulture – Common Hoopoe – Red-whiskered Bulbul – Racket-tailed Drongo – …
Author: Sejal Mehta, Illustrator: Rohan Chakravarty
The tiger is a big cat, and he needs to hunt often, but why does everyone know he is here? Find out in Watch Out the Tiger is Here, a short beautifully illustrated picturebook for young children about a tiger. This book is a creative commons book brought to us by Pratham and Storyweaver.
 Wiggle-Jiggle is a cute and cuddly caterpillar story with very cute rhythm, rhyme, and repetition.  Young children will love this short, beautifully illustrated picturebook. Young children will love all the fun sound words along with the bright pictures, and the inevitable ending. Illustrated by: Megan Vermaak Written by: Mathapelo Mabaso Designed by: Chenél Ferreira Edited …
Kaptain Uke is back, this time with some music lessons in The Kaptain Uke Glockenspiel Book. The Kaptain Uke Glockenspiel Book has a number of simple songs and melodies that readers will recognise that can be played on the Glockenspiel with an explanation of the notes, note names, and words for the songs. In this …
Illustrated by Megan Lötter, Written by Fred Strydom
My Dream in a Drawer is a rhyming picture book which is certain to inspire children to foster a dream. A short book suitable for young children, kindergarten and early elementary. This is another awesome creative commons book from Bookdash. Sample Text from My Dream in a Drawer I once had a dream, so small.
Author: Nguyễn Trần Thiên Lộc, Illustrator: Lê Thị Anh Thư
In Tiger's Delicious Treats, tiger loves baking. Everyday tiger bakes pies, he desperately wants to sell them, but they don't sell. Meanwhile, all the other animals smell the pies and desperately want to taste them but why don't they buy the pies? Find out more in this amusing misunderstanding and more amusing solution. Will tiger …
---
Sponsored Links:
Note – if you sign up through these links, it doesn't cost you any extra, but FKB receives a small donation, which helps us move towards our aim of
FREE Hardcopies!  
All our posts are checked by Grammarly, the FREE online grammar checker (We still receive a donation even if you only sign up for the free account :-):


This site is hosted by Bluehost:

Leave a comment (it won't be public) if you want help getting your own website cost-effectively.