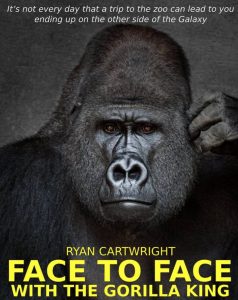 Face to Face with a Gorilla – Middle Grade Science Fiction- Who would know a family trip to the zoo results in a trip to another galaxy? A mission to fulfill a prophecy for another race, a battle with strange rules, and lots of excitement while trying desperately to get back home.
This science fiction chapter book has lots of fantasy and fun for those that love adventure.
An original short story by Ryan Cartwright
Sample text from Face to Face with a Gorilla King:
Part One
"It's not every day that a trip to the zoo can lead to you ending up on the other side of the Galaxy"
It's not every day that a trip to the zoo can lead to you ending up on the other side of the Galaxy. I mean it's not something you expect is it? One minute you're looking at a very bored Tapir and the next you are standing in fantastic palace before a very grumpy gorilla sitting on a large, golden throne.
The day started out okay. Well it was a bit boring if I am honest. We got up, got dressed and had breakfast. I wore my "Nature is wild" t-shirt. It's really cool with a picture of a small deer in the mouth of a large lion. Mum doesn't like it but I insisted that this was the perfect day to wear it. We had breakfast and set out to catch the train to the zoo. Dad had taken the day off so the whole family could go, it being half-term and all. Mum fussed over whether I was warm enough and Dad strode off at a heck of a pace towards the station. All pretty much normal. The train journey was fairly uneventful as well. After a quick change onto another line we arrived at the zoo in good time. I was keen to see the lions but my sister, Jodie, wanted to see the penguins. The penguins were nearer to the entrance so we went there first. They were pretty cute I have to say and the way they walked was quite funny. They're swimming was amazing, particularly when you looked through the glass walls into the tank. I guess I should have realised something was up though as at one point I crawled into a bubble window to see the inside of tank and suddenly all the penguins swam over towards me. For a second I thought they were pointing at me but as I turned to tell my Dad
the keeper arrived with a bucket of fish and they all swam off towards her.
<End of Page One>
Approximate word count: 11,000, reading time: more than one hour
Download or read online via the links below the post to see more.
More Books From Ryan Cartwright on Free Kids Books: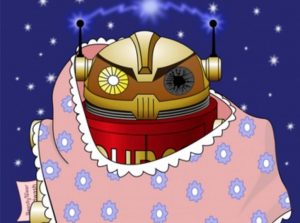 Sugar the Robot and The Race To Save Earth is a wonderful early science fiction book.
Tim is mad about robots. He even has robot underwear. He dreams of one day having his own robot – and he'd be a good, kind robot too! But that's likely only possible when he grows up and goes to university, he's only ten, right? When Tim fixes the toy robot his grandad gives him, his dream may come true early, along with an exciting adventure, and a race to save the planet, somehow mixed up with some lost laundry.
Check Out More Chapter Books:
See more science fiction books below
---
Sponsored Links:
Note – if you sign up through these links, it doesn't cost you any extra, but FKB receives a small donation, which helps us with our project to buy more FREE Hardcopies   for kids who need them

All our posts are checked by Grammarly, the FREE online grammar checker (We still receive a donation even if you only sign up for the free account :-):