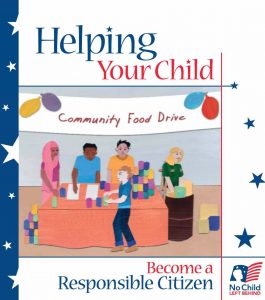 Helping Your Child Become a Responsible Citizen is a parenting book about values, which provides helpful advice for parents about introducing concepts of empathy, respect, and civil responsibility. This is a book produced by the US department of education for parents.
This booklet provides information about what you can do to help your
child develop strong character. values and skills that make up character and good citizenship. It suggests activities that you and your school-aged children can do to put those values to work in your daily lives and tips for working with teachers and schools to ensure that you act together to promote the basic values that you want your child to learn and use. Finally, the booklet provides an extensive list of books and other resources with character-related themes that you can read and discuss with your child to encourage character and citizenship development.
The topics in Helping Your Child Become a Responsible Citizen which are covered are as follows:
What Does "Strong Character" Mean? 1
Compassion 1
Honesty and Fairness 3
Self-discipline 5
Good Judgement 7
Respect for Other 9
Self-respect  11
Courage 13
Responsibility 15
Citizenship and Patriotism 16
How Can We Help Children Learn about Character? 18
Set a Good Example 18
Set High Standards and Clear Expectations 20
Coach 21
Use Literature 22
Activities 25
Getting to Know Others—from Near and Far 26
Gifts from the Heart 27
Telling the Truth 28
Think about It 30
Keep Trying 31
Making Decisions 32
Magic Words, Caring Deeds 33
There's a Monster in My Room! 34
OOPS! 36
Stand Up for Yourself 36
Helping Out 38
More Than Chores 40
Our Heroes! 41
How Can I Be of Service? 42 Coping 43
Are You My Friend? 45
Listen to Your Feelings 46
Share a Story 46
Dealing with Media Pressures 49
Working with Teachers and Schools to Build Character 51
If you're looking for children's books that promote good values, check out our Values category.
---
Sponsored Links:
Note – if you sign up through these links, it doesn't cost you any extra, but FKB receives a small donation, which helps us move towards our aim of
FREE Hardcopies!  
All our posts are checked by Grammarly, the FREE online grammar checker (We still receive a donation even if you only sign up for the free account :-):


This site is hosted by Bluehost:

Leave a comment (it won't be public) if you want help getting your own website cost-effectively.