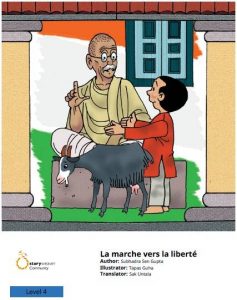 La Marche vers la Liberté – Marching to Freedom French Version – Dhani and his parents lived in a very special place. It was Mahatma Gandhi's Sabarmati Ashram near Ahmedabad where people from all over India came to stay. Dhani knew something exciting was being planned at the ashram, but no one would tell him anything.
Like Gandhiji, they were all fighting for India's freedom. That morning, as Dhani fed Binni with fresh grass and changed the water in her bowl, he said, "Something's They all sit and talk in Gandhiji's room. They are planning something. I know it!"
Gandhiji and some of the men from the ashram were going to walk through Gujarat to reach the sea at a place called Dandi. They would walk through villages and towns for a whole month. Once they reached Dandi, they would make salt. and this will be known as the Salt March led by Mahatma Gandhi In March 1930.
La Marche vers la Liberté – Marching to Freedom French is a creative non-fiction picture book written around Gandhi's famous march to freedom.
This is a Level  4 French Book brought to us by Pratham's Storyweaver licensed under creative commons. Level 4 books are perfect for children who can read fluently and with confidence.
Written by Subhadra Sen Gupta, Illustratrated by Tapas Guha, Translated by Sak Untala
Text and Images from La Marche vers la Liberté – Marching to Freedom in French
Dhani savait que quelque chose se préparait dans l'ashram, mais personne ne lui avait rien dit. « Tout ça parce que j'ai neuf ans, se dit-il, l'air renfrogné. Je suis sûr qu'ils pensent que je suis stupide. Mais pas du tout ! »
Dhani et ses parents habitaient dans un endroit très particulier, l'ashram Sabarmati du Mahatma Gandhi, situé
près d'Ahmedabad, où des gens originaires de toute l'Inde venaient séjourner. Comme Gandhi, ils combattaient tous pour la liberté de l'Inde. Pendant leur séjour, ils passaient leur temps à tisser d u khādī, chanter des chants religieux et assister aux conférences de Gandhi.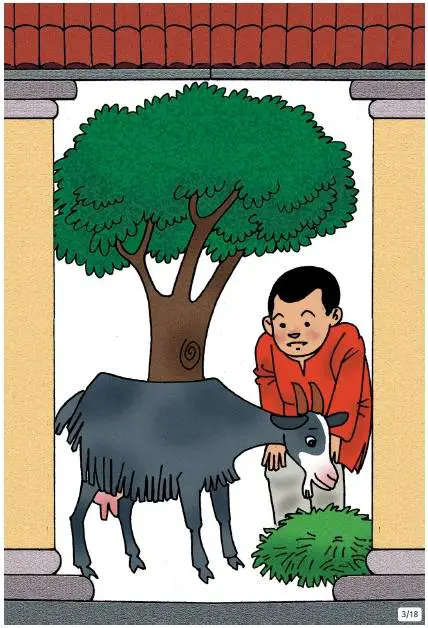 À Sabarmati, tout le monde devait travailler, c'est à dire cuisiner, faire le ménage, la lessive, aller chercher de l'eau au puits, traire les vaches et les chèvres, et cultiver le potager. Dhani avait un travail, lui aussi. Il devait s'occuper de Binni, l'une des chèvres de l'ashram. Il adorait cette activité, car Binni était sa meilleure amie et il aimait lui parler.
Ce matin-là, tandis que Dhani donnait de l'herbe fraîchement coupée à Binni et changeait son eau, il lui dit : «
Il se passe quelque chose, Binni. Ils sont tous rassemblés dans la salle de Gandhi. Ils préparent quelque chose, c'est
sûr. » Binni mangea son herbe et hocha la tête comme si elle avait compris.
Dhani avait faim. Il se dirigea vers la cuisine, Binni sur les talons. Sa mère ventilait le foyer de cuisson. La fumée emplit bientôt la pièce. — Maman, est-ce que Gandhi a prévu de se rendre quelque part ? demanda Dhani.
— Ils vont entamer une marche, répondit sa mère en toussant. — Une marche ? Où vont-ils ? — Au bord de l'océan. Maintenant, cesse de poser des questions et va-t-en, Dhani ! Laisse-moi finir de préparer le repas.
Dhani alla traîner vers le jardin potager où le vieux Binda récoltait des pommes de terres.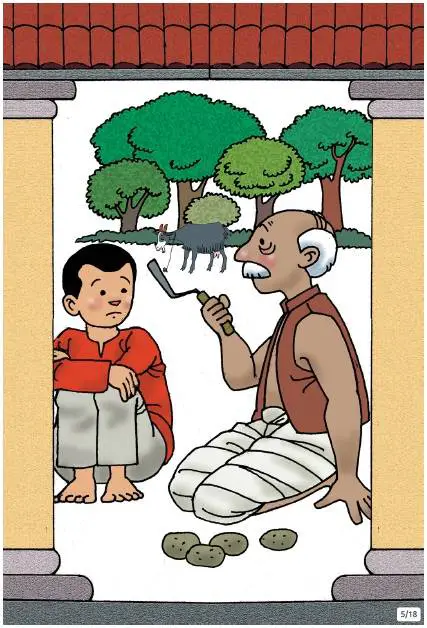 — Binda, est-ce que tu participes à la marche, toi aussi ? demanda Dhani en s'asseyant à côté de lui.
Binda secoua la tête. Il n'eut pas le temps de répondre. — Qui va à cette marche ? reprit Dhani de plus belle. Où
vont-ils ? Qu'est-ce qu'il se passe ? Binda arrêta de creuser le sol.
— Je vais répondre à toutes tes questions, Dhani, dit-il, mais d'abord, veux-tu bien attacher cette chèvre embêtante ? Elle est en train de dévorer mes épinards ! Dhani alla attacher Binni à un citronnier. Binda lui parla alors de la marche. Gandhi et certains hommes de l'ashram avaient prévu de traverser tout l'État du Gujarat pour rejoindre Dandi, au bord de l'océan indien. Leur périple à travers villes et campagnes allait durer un mois. Lorsqu'ils seraient à Dandi, ils récolteraient du sel.
<end of sample La Marche Vers la Liberté – Marching to Freedom French>
See also the English version of Marching to Freedom:
Marching to Freedom English Version
Fun facts of History (From Marching to Freedom)
1. In March 1930, Mahatma Gandhi led the march to Dandi to protest against the tax on salt imposed by the
British. Gandhi and his followers walked through Gujarat for 24 days. All along the way, they were welcomed with flowers and songs. Newspapers across the world carried reports about the march.
2. At Dandi, Gandhi and his followers collected salt from the seashore and were arrested. The arrest sparked off the Non-cooperation Movement, and people all over India boycotted schools, colleges and offices.
3. There were 78 volunteers who accompanied Gandhi on the march. They covered a distance of 385 kilometres.
4. The march began on 12 March and ended on 5 April 1930. The youngest marcher was 16 years old.
5. The year 2005 marks the 75th anniversary of the Dandi March.
---
See more books' in French below
See more books about History below
See more inspirational books below
About Pratham Books
Pratham Books goes digital, FKB  is helping with their aim to get a book in every child's hand!
Storyweaver, their digital platform is provided to weave a whole new chapter in the realm of multilingual children's stories. Knitting together children, authors, illustrators and publishers. Folding in teachers, and translators. Creating a rich fabric of openly licensed multilingual stories for the children of India and the world. Their unique online platform, StoryWeaver, is a playground where children, parents, teachers and librarians can get creative, using the resources to make your own unique books online.
About Creative Commons
Content under Creative Commons licenses can be downloaded, translated and can even be used to create new stories ‐ provided you give appropriate credit, and indicate if changes were made. To know more about this, and the full terms of use and attribution, please visit the following.
See more Pratham books' Storyweaver below
---
Sponsored Links:
Note – if you sign up through these links, it doesn't cost you any extra, but FKB receives a small donation, which helps us with our project to buy more FREE Hardcopies   for kids who need them

All our posts are checked by Grammarly, the FREE online grammar checker (We still receive a donation even if you only sign up for the free account :-):