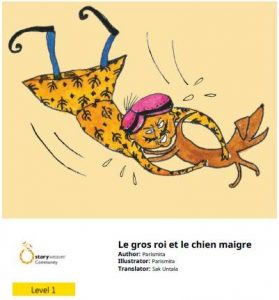 Le gros roi et le chien maigre – Fat King Thin Dog French version this is a Story of a King who owns a dog, but his dog run away chasing a bird. The King run after his dog for days. Would he stay fat still? This is a fun short simple story for young children.
This French Level 2 book is brought to us by Pratham's Storyweaver. This book is suited for children ages 2-5 years old who are ready to start reading. The book will introduce simple words for them with pictures to keep them interested.
Translated by Sak Untala (© Sak Untala, 2007), based on original story Fat King Thin Dog (English), written by Parismita, illustrated by Parismita, published by Pratham Books (© Pratham Books, 2007) under a CC BY 4.0 license on StoryWeaver. Read, create and translate stories for free on www.storyweaver.org.in
Text from Le Gros Roi et le Chien Maigre – Fat King Thin Dog French
Voici un gros roi.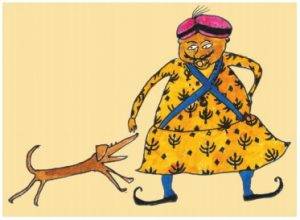 Le gros roi a un chien maigre.
Le gros roi et son chien maigre partent
faire une promenade.
Le chien voit un oiseau.
Le chien court après l'oiseau.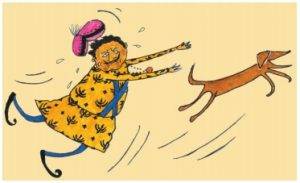 Le roi court après son chien.
Ils courent encore et encore.
Ils courent sans s'arrêter pendant plusieurs jours.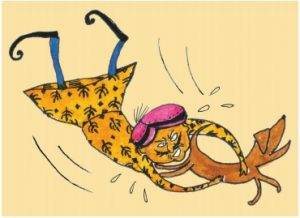 Le roi parvient enfin
à attraper son chien.
Le gros roi est devenu tout maigre.
<end of story – Fat King Thin Dog French>
About Storyweaver
Pratham's platform Storyweaver allows people to read, create, translate, and make variations of books. They have thousands of books, and images, which people can make their own books from and share them with others. All the books provided by Pratham are licensed as creative commons, that is they are free to be shared. The only restriction is that all resulting work must be shared in the same way, and due credit must be provided to the original creators (CC-BY-SA).
More Books From Storyweaver:
Read Le Gros Roi et le Chien Maigre in different versions below
The fat king Thin Dog – The Fat King chases a thin dog – what happens, will he stay a fat king? A short fun book for young children.The short length, large text, and repetition makes it very nice for early readers. Another great free Creative Commons children's story from Pratham and Story Weaver.
See more books in French below
---
Sponsored Links:
Note – if you sign up through these links, it doesn't cost you any extra, but FKB receives a small donation, which helps us move towards our aim of
FREE Hardcopies!  
All our posts are checked by Grammarly, the FREE online grammar checker (We still receive a donation even if you only sign up for the free account :-):