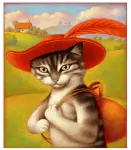 Puss in Boots is classic tale of how a clever cat gains wealth for his master through trickery. This version, is a short illustrated version of the classic tale, with classic pictures.
This adaptation retold by Kiwi Opa
Sample Text From Puss in Boots: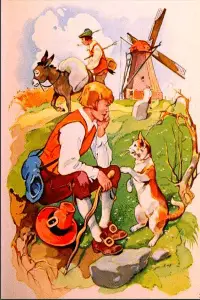 Once upon a time there lived a Miller who had three sons.
When the man died he left the mill to his oldest son; the middle son received his donkey while the youngest son was given his only other possession, a cat.
The young man felt sad.
Seeing the young man sad, the cat went over and rubbed his head against the young man's leg and spoke.
The young man was astonished. "Yes, I can talk," said the cat, "and if you will but buy me a handsome pair of boots and a large leather bag I will make you a rich and happy man.
<End of Sample Page From Puss in Boots>
About the Author:
Kiwi Opa is an accomplished writer, actor, ESL teacher, music industry professional, father and grandfather, and was the first official staff member at Free Kids Books.
About Puss in Boots:
Although usually attributed to Charles Perrault, "Master Cat, or The Booted Cat", commonly known in English as "Puss in Boots", is a European folk tale of unknown origin. The oldest record of written history is from Italian author Giovanni Francesco Straparola, who included it in his The Facetious Nights of Straparola (c. 1550–53) in XIV–XV. Another version was published in 1634, by Giambattista Basile with the title Cagliuso. The most famous version was written in French at the close of the seventeenth century by Charles Perrault (1628–1703), a retired civil servant and member of the Académie française. The tale appeared in a handwritten and illustrated manuscript two years before its 1697 publication by Barbin in a collection of eight fairy tales by Perrault.
View Puss in Boots by Kiwi Opa on video here:
Download a print friendly (mainly black text on white background) here: https://freekidsbooks.org/wp-content/uploads/2017/03/Puss-in-Boots-FKB-version-2-Dan.pdf
About Free Kids Books:
This classic book is brought to you by Free Kids Books, the home of all great free e-books for children
About Creative Commons:
Content under Creative Commons licenses can be downloaded, translated and can even be used to create new stories ‐ provided you give appropriate credit, and indicate if changes were made. To know more about this, and the full terms of use and attribution, please visit the following
More Classic Stories:
See All Classic Stories in our collection here.
Save
Save
Save
Save