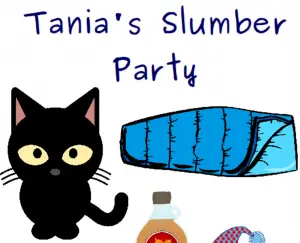 Tania and her friends are back, and this time Tania's having a slumber party. It's Tania's 6th birthday and there is lots of fun and games with a sleepover, some party games, and a surprise in the night.
This is one of a large series of books for children about Tania and her adventures by Kanika G.
Sample Text From Tania's Slumber Party: 
Tania's Slumber Party It was 2nd March 2016. So you know what the occasion was, don't you? Yes, you got it right. It was Tania's 6th birthday. Can you believe she is already 6 years old? My goodness! How time flies, when you are having fun with Tania.
Tania's 6th birthday celebrations turned out to be a lot more dramatic and exciting than mama had planned. This is how it all began.
A week before Tania's birthday, mama asked "Tania, how would you like to celebrate your birthday this year? We could have a party at home, or we could take your friends on a picnic. What do you think?"
Tania hesitated. She said, "Mama you just had our room renovated and it is lovely. I was wondering if I could have a few of my friends over for a slumber party. Miss Gupta said school is closed on 2nd March, because the teachers have to go for a training seminar. So it works out perfectly.
About the Tania Series
Kanika G is a physicist and mother of two. She started writing to entertain her first child when she was two. Each book would be read to her daughter, and this would form a critique and improvement cycle for the book. She now has over 30 Tania books and more books for young children and children learning to read.
Tania Series:
Read More about Tania on Free Kids Books here: https://freekidsbooks.org/tag/tania/
For All of Kanika's books on Free Kids Books, and more about the author see here: https://freekidsbooks.org/author/kanika-g/
See more books from Kanika G below
---
Sponsored Links:
Note – if you sign up through these links, it doesn't cost you any extra, but FKB receives a small donation, which helps us move towards our aim of
FREE Hardcopies!  
All our posts are checked by Grammarly, the FREE online grammar checker (We still receive a donation even if you only sign up for the free account :-):