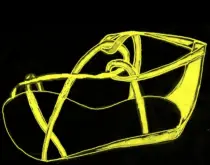 "Princess Lemon And Her Yellow Shoes",  Kate has lots of shoes. She loves them all. Well… All except a pair of pretty yellow sandals. She wants to throw the sandals away, and treats them badly. But one day she needs them for a costume. What happens to the poor yellow shoes? And what is the real reason she hates them so much? Another great book from Kanika G of the Tania Series.
By: Kanika G
Sample Text From Princess Lemon And Her Yellow Shoes:
Kate had lots of shoes. She had pink slip-on shoes, brown floaters, black school shoes, white sports shoes, red party shoes, and silver ballet shoes.
She also had another pair of shoes. But she did not like to talk about them. She did not want anyone to see them. She hid them at the far back corner of her shoe rack.
Aunt Tina had given Kate a pair of yellow, open toed, strappy sandals for Diwali. Kate was very angry when she saw them. She want to find Mama to tell her to throw them away.
<End of Sample Text From Princess Lemon And Her Yellow Shoes>
About the Author:
Kanika G is a physicist who began writing to entertain her daughter, a very successful hobby which led to the popular Tania series. She now has a large range of children's books enjoyed by many readers. You can read more abut Kanika here:  https://freekidsbooks.org/author-biography-kanika-g/ 
Read More Book From The Author:
About the Tania Series
Kanika G is a physicist and mother of two. She started writing to entertain her first child when she was two. Each book would be read to her daughter, and this would form a critique and improvement cycle for the book. She now has over 30 Tania books and more books for young children and children learning to read.
Read More about Tania on Free Kids Books here: https://freekidsbooks.org/tag/tania/
For All of Kanika's books on Free Kids Books, and more about the author see here: https://freekidsbooks.org/author/kanika-g/