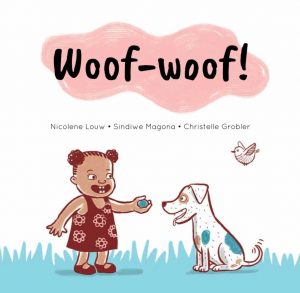 Woof-Woof is a delightful story of a young girl overcoming her fear of pets.
The little girl is terrified of her family dog, and runs crying to her Daddy. Her Daddy shows her the woof-woof only wants to play. Slowly the little girl overcomes her fear and gains trust.
This cute short picture book was brought to us by BookDash, a non-profit dedicated to creating and distributing literacy material, and it is released in the creative commons.
Sample Pages from Woof-Woof – overcoming fear of pets.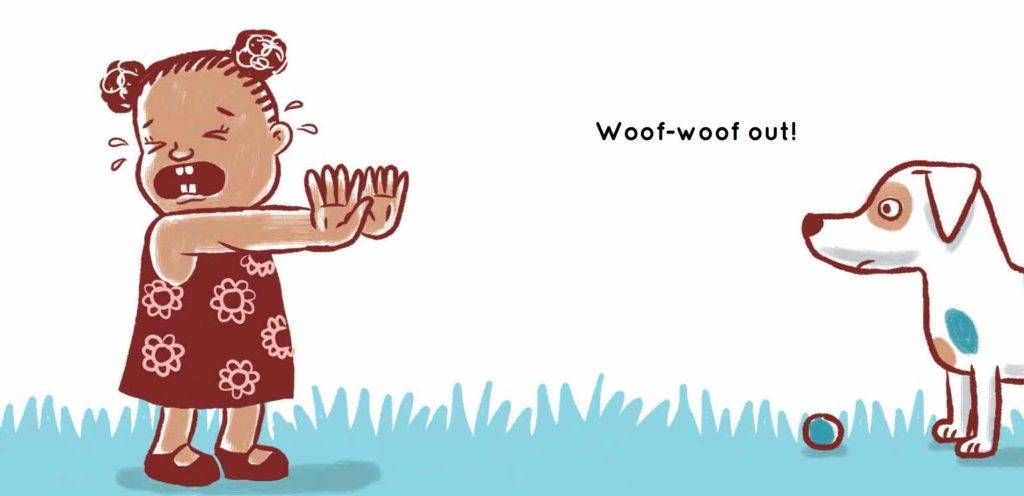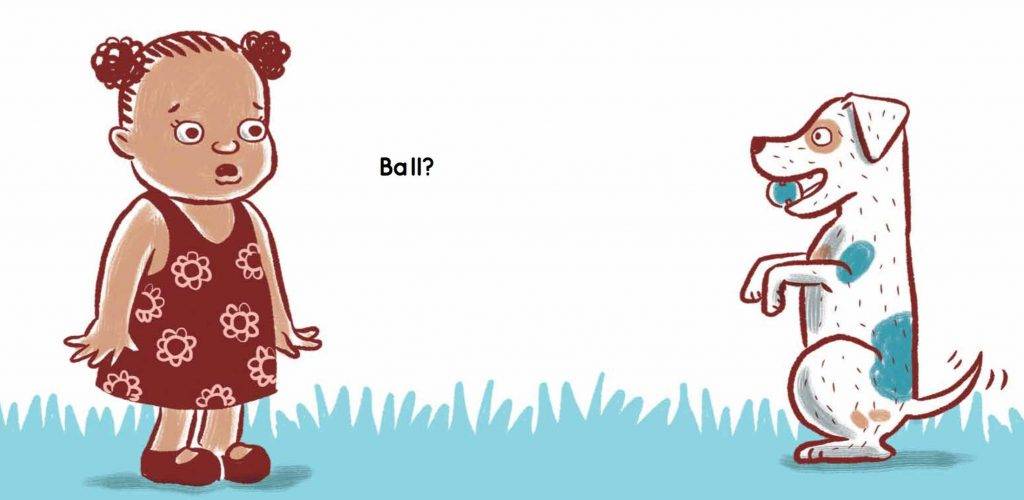 <End of sample pages from woof-woof – overcoming fear of pets>
About Book Dash 
Book Dash gathers professional creatives – writers, illustrators, designers, editors – who volunteer to create high-quality children's books that anyone can freely download, translate, print and distribute. Most of the work is done on a Book Dash day, when small teams work for over twelve straight hours, each producing a new book.
Why Book Dash?
Books purchased from publishers cost too much. In order to distribute more books for South African children, Book Dash participants work as publishers in a single day, having a book with no publishers mean the book will be a lot cheaper the only cost will be printing the books. With these, anyone can run sponsored prints and the finished books can be handed to children.
Every child should have a hundred books when they reach the age of five. that means handing down 600 million free books to South African children who probably could not afford to buy them, More children grow up not learning how to read and write well, and every day we lose more of these children. Let us not neglect this children and help them overcome poverty by first teaching the how to read and to enjoy the worlds that a book can open up.
See more books like this in our Bookdash category.
See more books for young children in our Toddlers age range.
Author: Murari Jha, Illustrator: Suvidha Mistry
The Bubble Mystery explores Toot Toot the goat's mystery adventure when she tries to find out where bubbles come from, can you guess? Young children will find the tale immensely amusing. This picture book was created by Room to Read, and this version is from Storyweaver. Download the epub version here, The Bubble Mystery epub. …
Clark Ness has an amazingly large set of learning to read books available. His site includes literally thousands of easy readers, phonics based readers, sight word books, and much, much more. This set here is just a sample of some of his work using the open dyslexic font. The set in this post contains the …
Author: Sejal Mehta, Illustrator: Rohan Chakravarty
The tiger is a big cat, and he needs to hunt often, but why does everyone know he is here? Find out in Watch Out the Tiger is Here, a short beautifully illustrated picturebook for young children about a tiger. This book is a creative commons book brought to us by Pratham and Storyweaver.
Wiggle-Jiggle is a cute and cuddly caterpillar story with very cute rhythm, rhyme, and repetition.  Young children will love this short, beautifully illustrated picturebook. Young children will love all the fun sound words along with the bright pictures, and the inevitable ending. Illustrated by: Megan Vermaak Written by: Mathapelo Mabaso Designed by: Chenél Ferreira Edited …
---
Sponsored Links:
Note – if you sign up through these links, it doesn't cost you any extra, but FKB receives a small donation, which helps us move towards our aim of
FREE Hardcopies!  
All our posts are checked by Grammarly, the FREE online grammar checker (We still receive a donation even if you only sign up for the free account :-):


This site is hosted by Bluehost:

Leave a comment (it won't be public) if you want help getting your own website cost-effectively.